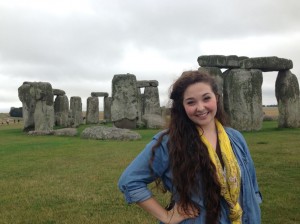 By TYLER DALE
Opinions Editor
The summer of 2013 has come and gone, and with it so many memorable experiences.
Many Piedmont students used it as an opportunity to escape from the hectic college life and enjoy a little R&R.
But while some of us were sipping sweet tea from our back porch or enjoying a sunset by the sea, others were traveling the world, and earning college credit at the same time.
Piedmont College offers many study abroad Maymesters each summer. The location options vary each year.
This year, Piedmont sponsored trips to England, Spain, New York City, Italy and Japan.
The students who traveled to England received three hours credit in both religion and music.
They studied  the Reformations of Tudor England as well as English church music as part of their courses.
Their 10 day trip began in London where they visited all of the iconic tourist sites, including Westminster Abbey and Windsor Castle.
The Piedmont College Singers also performed a full concert at Brunel University. From London, they went to the small town of Wells where another small concert was performed.
The students also got the chance to see Stonehenge and the famous Roman Baths.
They then traveled via coach to the countryside of Wales, where they visited the ruins of Tintern Abbey and sang at Brecon Cathedral. Returning to England, the students found themselves in the city of Winchester.
They visited several historic Congregationalist sites, including Southampton, the location where the Pilgrims began their voyage on the Mayflower.
Then they performed a full-length concert at the Winchester Cathedral.
Upon returning home to Piedmont, jet-lagged and exhausted, they had many exciting stories to tell about their time in England.
The students traveling to Spain received three Spanish credit hours, and three hours in Biology, specifically the study of cultural medicine.
They arrived in Madrid at 8:00 a.m., and took in the scenery of El Retiro Park while waiting to check in to their hotel.
Over the course of the trip, they spent their time soaking in the rich Spanish culture.
They visited several art museums, including those dedicated to the famous painters Pablo Picasso and Salvador Dali.
They watched a Flamenco performance, marveled at massive monuments in Madrid and Barcelona and gained insight into the cultural differences between the healthcare systems of Spain and the United States.
In their free time, they were allowed to experience the wild Spanish nightlife: haggling with shopkeepers, exploring Spanish markets and stumbling across impromptu fireworks shows.
When they had free time during the day, they toured botanical gardens, walked through street markets, and tasted all of the finest Spanish cuisine.
The incredible Spanish culture has certainly left its mark on them as they return to Piedmont, enlightened by another way of life.