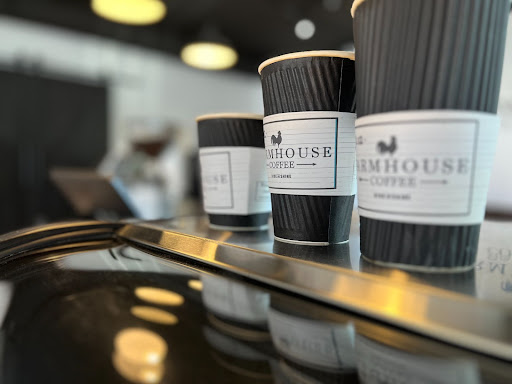 On Saturday, July 29, Farmhouse Coffee opened the doors to their second location with a third opening in Gainesville, Georgia on September 23. 
"We are so grateful for the opportunity to be in the Demorest community, as well as be able to be in the heart of the county", owner Stephen Martin says. 
Farmhouse opened its first location on the town square in Cleveland, Georgia in 2021. It quickly became a popular stop for locals and tourists alike. The quaint coffee shop quickly outgrew the original walk-in only building. With the impressive customer base, the owners are excited to announce that Farmhouse in Cleveland is expanding and moving into a much more spacious building adjacent to their current location. If you are a White County native, you know exactly where the new location will be. The new location will be in the same building where Cleveland Drug and Soda Fountain Café was housed until their move in 2020. This new space will provide the opportunity for customers to sit and enjoy their drinks and food. 
"[The new location] will provide ample room for getting coffee and sitting down and hanging out with groups of people. It'll be a hub for a community in Cleveland."
For the Demorest location, owners Stephen and Marilyn are ensuring that they make all Piedmont students, faculty and staff feel welcome. 
"We feel like be right across the street from Piedmont University is the icing on the cake. We are going to be very intentional to make the students and faculty feel welcome in our space."
The atmosphere offers a great place for students to hangout, study or relax, all while listening to the perfectly curated playlist over the speakers. No coffee shop is complete without great conversation, and Farmhouse is no exception. Each visit, you are greeted with friendly smiles and welcoming conversations by the baristas. 
"I didn't really expect much of a different atmosphere from the store in Cleveland, but it actually turned out to be way different. The vibe here is super awesome. I've loved getting to know the students. It's been a very tight-knit community." Says Trey Fuller, Morning Shift Leader at Farmhouse Coffee's Demorest location. 
The Demorest location's hours have been updated to allow more students a chance to grab a coffee in between classes. Currently, the coffee shop is open 6:30am-8pm Monday through Friday, and 7am-6pm on Saturday. Piedmont students get a 10% discount with each purchase.