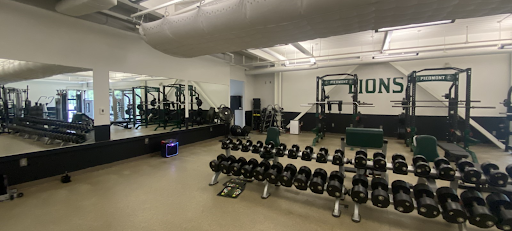 The fitness center is a popular destination for Piedmont students in the Student Commons. Whether the student is an athlete or not, they can come in and exercise at no cost.   
Over the summer, Piedmont University's Head Strength and Conditioning Coordinator, John Delf-Montgomery, and his staff of graduate interns transformed the once cookie-cutter fitness center into an inspiring environment for all Piedmont students.  
  "We now have one of the nicer setups in the conference. It's something people want to come and see," said Delf-Montgomery on how vital the upgraded weight room is to the school's athletic success. "We still have to be good. We have to be healthy. We have to have that mentality. Now we have something that we have a little more pride for."  
  Delf-Montgomery traveled as far as Charleston, South Carolina, looking at gyms and fitness centers to find inspiration for what he wanted to implement in the Piedmont fitness center. What stood out in the gyms was how open they all felt. Part of what fostered that feeling were the white walls and ceilings.   
Upon entering the new-and-improved fitness center, students and staff will notice the bright white walls with a black stripe around the gym. They will also notice the eye-catching "PIEDMONT" and "LIONS" on the walls. By including the school's name on the wall, Delf-Montgomery explained, "Our kids have a little bit more passion because it's theirs, so they feel like it's a place that is meant for them."  
Many students at Piedmont know and love the fitness center. Whether they use it for personal purposes or team purposes, it is a common place where students come to strengthen their bodies. With the number of students who use the confined space, it was important for Delf-Montgomery to ensure the safety of all students utilizing the facility.   
"I thought the racks were something that was a big purchase that would mean a lot, not only to our kids visually and from a passion perspective, but from a safety perspective," Delf-Montgomery said. The new racks have two spots to put a barbell, allowing more students to work out safely simultaneously.  
"I know it can get packed in there, but I feel like the way that coach Delf helped design it has created more space for people, and I think everybody really likes it a lot," said graduate student Aria Solano. Solano is excited about an improved environment for all students.  
  "I felt like I was making history," said Solano. Solano found joy in being a part of such an integral part of Piedmont Athletics. "It is such a big part of our campus because there are a lot of athletes and there are a lot of people who use the gym, so it was just really cool."  
  Delf-Montgomery and Solano both agreed that with the success of Piedmont Athletics, there is a lot of Piedmont Pride floating around campus, and they are thrilled to be a part of giving something back to the students.  
  "I welcome anybody who hasn't been in the weight room. Maybe it's not a place that you've thought about coming to before, but just come in and see the changes. I think a lot of people will see that it feels more welcoming now," says Delf-Montgomery.