Piedmont Celebrates Student Research at Fifth Annual Symposium
Piedmont University hosted its fifth annual Symposium Wednesday, April 12. Symposium is an event to highlight the research, creativity and inquiry of the students; the event is organized and directed by Piedmont University Associate Professor of Biology Dr. Julia Schmitz, who is able to accomplish the planning and execution of the day with the support of a committee of faculty and staff. 
The 2023 Symposium was a day to display and celebrate the research, projects and accomplishments of current Piedmont University students. Events and presentations ranged in categories from film to natural sciences, allowing students from all disciplines the opportunity to display their hard work. The hard work of students was presented in a number of ways, including collective poster presentations in the Student Commons gymnasium, Powerpoint presentations in the various screening rooms on campus and art gallery displays at the Mason-Scharfenstein Museum of Art. 
"It's a great day to showcase what our students do in the classroom," said Schmitz. "I make a point to go and learn something in each room; it's an incredible opportunity to learn from other people, especially in disciplines outside of my own."
Professors and advisees play an essential role in guiding students' research. 
Students are able to receive vital experience in the research process of their presentations in addition to the necessary skills of presenting said research and interacting with those in attendance. Students from all learning pathways are presented with the opportunity to participate in the day. 
"I am very proud of my work, so I enjoyed sharing it with others," said junior cell and molecular biology major Emily Rankin. Rankin presented her research, "Comparison of Household Disinfectant Sprays using the Kirby Bauer Disk Diffusion Assay," during the poster session. 
Rankin noted that the laid-back atmosphere of presenting to her peers eased the stress of the experience, making it more enjoyable. 
While not all students present on Symposium day, those that are not presenting are given the day off from classes to attend the presentations of their peers. Research presented this year includes "Does Racial Discrimination Affect Maternal Mortality More Than Access to Care in African Americans?" by Dermanee Sorrells, "How Does Decomposition Affect Plant Growth and Soil Composition?" by Addison Bowen and "Global Mass Media: AI Reality" presented by Alexis Baumgardner, Madison Gott, Caden Nelms, Dante Wilson and Ella Cain. 
Presentations included a senior capstone group show by art students Sarah Bittner, Laura Dove, Samantha Carvallo, Madison Wright, Amanda Bracco, Victoria Itedjere and Clair Eisele, and "Red Carpet Magic!" presented by a diverse range of student filmmakers.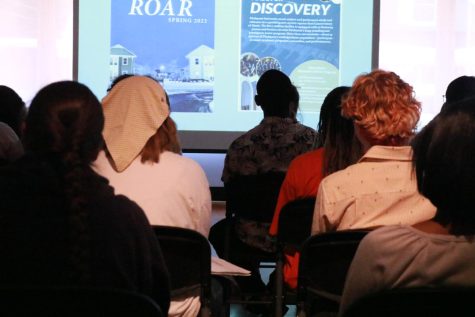 Nahomi Solorzano, a sophomore film major, presented at three sessions of the day. These sessions include "Crashing the Agenda: Addressing Race in Film," based on research completed in the course Mass Media Survey with Dr. Joe Dennis, "Documentary: Personal Lives," of which Solorzano served as a subject in a documentary and "Red Carpet Magic!" having helped produced three of the films presented at the session. 
"Participating in Symposium helped me refresh my public speaking skills, especially because my sessions were essentially back-to-back. For the 'Red Carpet Magic!' session, I acted as co-host, so I learned how to engage audiences to keep them entertained throughout the presentation," said Solorzano.
In addition to the presence of faculty and staff, students presenting are able to present their efforts to campus guests, including their families. 
The 2023 Piedmont University Symposium once again highlighted the value of celebrating students' work. The university looks forward to once again showcasing these efforts in 2024.