Creating Relationships Before Success: Coach John Delf-Montgomery Story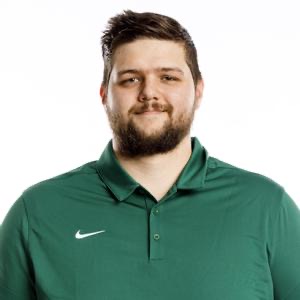 The ability to create opportunity out of any situation, positive or negative, is not for the faint of heart. John Delf-Montgomery, better known as Coach Delf here at Piedmont University, realized during his own collegiate playing career that building relationships and helping athletes grow on and off the field was his true calling after graduating from Berry College.
Delf was a four-year football player at Berry College and played one year of basketball in his senior year. Currently, Delf is in the middle of his second full year here at Piedmont as the university's Head Strength and Conditioning Coach.
Delf was a part of the second-ever football recruiting class at Berry College as he committed to the Vikings in 2014 out of West Forsyth High School. Delf expressed how difficult the beginning of his football journey was; the woes would not continue for the entirety of his four-year career at Berry.
"My freshman year at Berry was very rough. You have a bunch of 17, 18 and 19-year-old kids playing against grown men who are 21 and 22. You could not really expect any other result," Delf said.
Football is not a sport where size or age can be thrown out of the equation and still expect athletes to compete when outmatched. Not only Delf but his teammates realized the only way to compete with these disadvantages was to turn them into advantages.
"That first summer after freshman year, we decided to give everything we had to each other accountability-wise, along with work for one another and not ourselves. It started in the weight room; this was also the time I realized I wanted to pursue strength and conditioning as a profession," Delf said.
The hard work paid off for Delf and his teammates as they finished their junior and senior seasons as SAA conference champions. This was a feat that did not seem possible after a record of 9-11 total from their first two years at Berry College.
Delf's athletic career did not end after that senior football season concluded. Instead, he played one season on the Berry College men's basketball team before graduating.
"I was initially recruited to play both football and basketball for my freshman year at Berry but decided to focus on just football at the time. When the coach at Berry wanted me to join the team, he flat-out told me that he needed me to be a locker room guy, and I embraced that role," Delf said.
Delf's senior basketball campaign would compare to his first two years on the football team as the Vikings posted a win-loss record of 8-17 overall. As the last seed in the SAA conference tournament, the Viking's season seemed all but wrapped up.
"We were awful all year, honestly, but all it takes is getting hot at the right time, and that is exactly what happened. We got hot," Delf said.
The Vikings men's basketball team would achieve a record of 3-0 throughout the SAA conference tournament and win the championship game 88-78 against Hendrix College.
This concluded Delf's athletic playing career at Berry College, where he would end up with three SAA conference championship rings in two different sports. Even with that amount of success, Delf still has plenty of work to do inside the realm of athletics.
"Winning a conference championship is not the pinnacle for me. Building relationships and the day-to-day interactions I have with athletes are what matters to me. Through helping athletes at Piedmont and making it about the relationships first, then success, that is exactly who I want to be known for," Delf said.
Delf pours into not just Piedmont athletics but also the next-generation athletes in the Northeast Georgia area with his personal strength and conditioning company, Powerhouse Sports Performance. Keeping athletes in the community and loving their respected sports is the number one priority for Delf's next step.
"Seeing all these young athletes play and compete for small-town communities then rush off and play AAU or travel sports for big-name organizations where they turn into a nobody, has to stop. A relationship is the best way to grow an athlete and their success, not the name of the team they play for or the organization's exposure. Exposure has become the new norm for youth athletes to chase in today's culture," Delf said.
Delf's drive and the want to create relationships before on-field success is how he plans to keep Piedmont athletics on top. The same for his own private athletes at Powerhouse Sports Performance.