Piedmont Senior Filmmakers Premiere Documentaries
On Thursday, April 6, mass communication seniors Aaron Palmer and Caleb Rogers premiered their short-form documentary films as part of their senior capstone projects. Succeeding the showing of their respective showings, the two opened the floor to audience questions and feedback, both providing further insight into the inspiration and production process of their films. 
The premiere began at 6 p.m. with Aaron Palmer's premiere of "The Invisible Opponent," documenting the mental health struggles of collegiate athletes.
"The content of the documentary means a lot to me, being a former student-athlete that faced a lot of the issues discussed in this film," said Palmer. "I learned that a lot of people can relate, and it's important to keep the conversation about this subject alive."
"The Invisible Opponent" tackles the difficult conversation of student-athletes struggling with mental health behind closed doors. Mental health crises often go overlooked in sports due to the expectations and pressures placed on athletes to perform. The struggles collegiate athletes face have become the forefront of conversation after multiple collegiate athletes lost their battles with mental illness in recent years. 
Palmer's documentary features Piedmont University athletes Chris Donsereaux (men's track and field) and Avrey McAllister (women's basketball), as well as former Piedmont University athlete Andrew Klein (baseball), who now coaches a local 15U baseball team. Each athlete details their personal struggle with mental health and how those struggles were impacted by their sport and influenced their performance.
The overarching goal of "The Invisible Opponent" is to destigmatize mental health struggles, particularly among collegiate athletes that are faced with excelling both on the field and in the classroom. Palmer's production provided the filmmaker with not only professional experience researching, recording and editing the content but also personal insight that led him to seek out counseling for his own mental health struggles.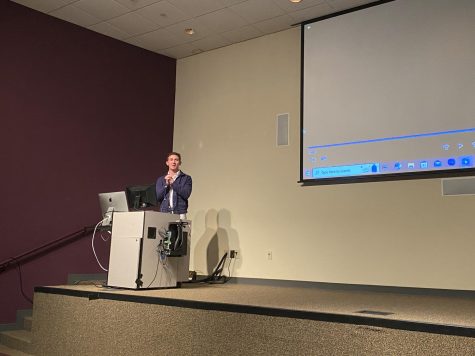 Caleb Rogers' premiere of his documentary "Undocumentary" followed Palmer's presentation. "Undocumentary" shares the story of fellow Piedmont University student, sophomore film major Nahomi Solorzano, who is currently an undocumented immigrant. 
"What I wanted to do with this film is to show people without an idea of the life of someone who is undocumented to understand what they have to go through," said Rogers when explaining the inspiration behind his film.
Rogers' goal for his capstone project was to investigate the use of empathy within film to evoke emotion. He hoped that in producing a film on a controversial topic that could easily become political, he could refocus the conversation toward the humanity of the people that face the struggles of being undocumented. 
"Something that my parents have taught me is that you always have to do the right thing, and even if the right thing shows fear or questioning, you have to do it because many 'greats' had to take that risk," said Solorzano of any hesitancy she had of starring in the film. 
Despite the current status of her citizenship, the film focuses on the perseverance of the Solorzano family to accomplish whatever hurdles they encounter, particularly in providing Nahomi the opportunity to pursue an education and a career in film. Solorzano is currently exploring an alternative path to attaining citizenship after the previous option was canceled by the U.S. government. 
Rogers' documentary provided Solorzano a platform to not just share her story with those that are shielded from the struggles that she and other families that have undocumented children face but also to inspire other students and families that face similar struggles that the opportunities are available regardless. 
"It was a big learning experience for me to see what Nahomi and her family go through," said Rogers. "My life will forever be changed because of what I was able to experience with her family."
Both students, Palmer and Rogers, displayed exemplary skills in the production of their capstone documentaries.
"The Invisible Opponent" can be viewed at https://palmeraaron7.wixsite.com/apvideocatalog 
"Undocumentary" is available here https://www.youtube.com/watch?v=oXyzLK8fEvw