Home is Where the Heart Is: Peyton Irvin
Before Peyton Irvin hurled baseballs at opposing batters at Loudermilk field, he once had the dream, like many other young ballplayers in Habersham County, and that was to be a Piedmont Lion.
Growing up less than ten miles away from Piedmont University's campus, then Piedmont College, Irvin was born and stayed a Habersham native. Having two older brothers that introduced Peyton to throwing a 5-ounce ball with red stitches in the backyard is how his passion started.
"By the time Peyton was four or five, he could throw harder than anyone his age, and if it didn't involve some type of ball or being outside, Peyton wasn't doing it," his mother, Sheree Irvin, said.
"Really, about the time he started walking, Peyton could already play a little catch with Christopher and Auston. They didn't take it easy on him whatsoever, so he was more advanced than kids his age," his father, Brian Irvin, said.
With a family who enjoyed everything about baseball, Peyton's family attended tons of home Piedmont baseball games.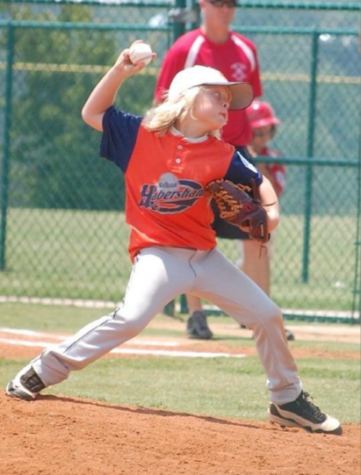 "Going to the games together was something we always did, and living so close to Piedmont made it so easy. I really fell in love with the stadium, the colors and the atmosphere at Piedmont more than anything. I always asked my parents if I was going to be a Lion, and it may not have been the smoothest path to Piedmont, but it all worked out in the end," Irvin said.
By "smoothest path," Irvin referred to how he ultimately ended up at Piedmont and the events which led him to commit here.
"Piedmont was never the ultimate goal. Like any other kid's dream, I wanted to play Division I baseball and get drafted. Once I got into high school, I realized I could still live my dream by playing baseball collegiately, but not Division I," said Irvin
Peyton's value as a baseball player at Habersham Central High School was immense and did not go unnoticed by college scouts. High-level play, which included Peyton having a career 1.95 ERA, 135 career strikeouts, a .370 career batting average and becoming a 2019 BLITZ (local news outlet) Hall of Fame inductee. These achievements vaulted Peyton to have multiple offers at the collegiate level. Piedmont was not a part of those initial offers, sadly.
"During my junior year, I went to a Piedmont baseball showcase and felt pretty pleased with my performance. The coaches did not feel the same way. I received an email two weeks later saying I was not good enough for their program," Irvin said.
Irvin opted to choose between Toccoa Falls College and Shorter University at the beginning of his senior year. He eventually committed to Toccoa Falls College, but that commitment would not last long.
"A few weeks after I had committed to TFC, the head coach contacted me saying he was accepting another job in Chicago and actually offered me a spot at the college he was going to. Chicago was too far for me because of the relationship I wanted to keep with my parents and family," Irvin said.
Irvin would have to make another decision about his baseball future. He was uneasy about almost all his options until a familiar face appeared at Gainesville High School during Irvin's senior campaign. The familiar face would be the head baseball coach at Piedmont, Justin Scali. Scali witnessed Irvin's dominating performance on the bump, which led Irvin to make his final decision on where he would be playing college baseball after reviving an offer from Scali.
"It was always a bit of a dream of mine to be a Lion, and that was coming true. It never worked out quite like I pictured it, but in the end, it all worked out for the best. I hope other high school athletes can learn from my experience that nothing is going to work out perfectly how you think it is, but battling through adversity works out in the end," Irvin said.
Irvin served as the Friday night starter for the baseball squad in 2022 and is on track to graduate with a business administration major in May 2023.