Piedmont Students Impact Local Elementary Schoolers During the Sixth Annual PAL Games
On Mar. 24, the sixth Piedmont Athletic Lions (PAL) Games were held at the Demorest campus' Mize Athletic Center. Piedmont University students organized the PAL Games in 2015 to build connections between university students with local elementary students with special needs.
The games were delayed for the past three years due to COVID-19, and in 2023, the games returned, resulting in a huge success!
"I love the games!" said freshman political science Madison Blankenship. "I think it is an amazing way for us to connect with the local community, and it's an amazing way to get involved. The best part was seeing all the kids so happy that they each had an assigned PAL for the day."
During the event, every elementary student was paired up with a Piedmont "pal." A vast number of athletes participated in the PAL games, and many more students joined in on the fun. A variety of activities were offered, ranging from sports like lacrosse and basketball, classic games of cornhole and a Piedmont specialty "minion bowling." With the participation of Piedmont's school mascot, Leo the Lion, group dances are always a big hit among the students.
As Piedmont students and athletes become more involved with their local communities and improve the lives of those around them, this project represents the continuation of that commitment. Along with providing support for local schools, these students also pursue their academic and athletic goals.
"It gave the students a good experience, and I'm sure it made the kids' day," said sophomore biology major Erick Fortner. "The best part for me was seeing how each kid has their own personality and strong suits. As well as how excited they got when they accomplished something."
This day was memorable for the kids and the Piedmont students. Many of these children were having and creating new friends with their 'pals.' Big grins were plastered across the faces of the gym while everyone had fun and created memories with one another.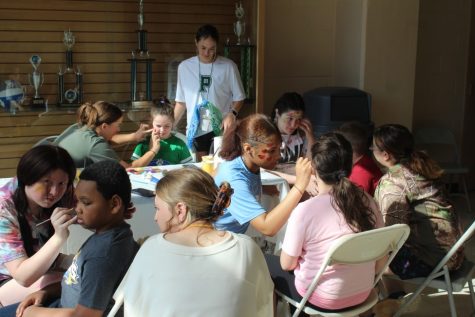 Many were broken when they had to leave at the end of the games, but they heard exciting news when Piedmont announced that they would love to do it again! So next year, it will be bigger and better; many Piedmont students were excited as well and can't wait to experience this again!
"I would definitely do it again!" said Fortner and Blankenship.