PC installs new WEPA printing system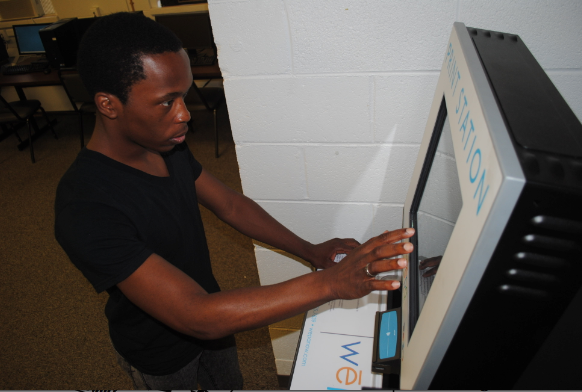 By Megan STUDDARD
Editor-in-Chief
Piedmont students can no longer enjoy totally free printing on campus.
WEPA, short for Wireless Everywhere Print Anywhere, is a cloud-based printing system designed to cut costs for higher education. This summer, the company installed ten kiosks across both campuses,with seven in Demorest and two in Athens.
John Misner, executive vice president for institutional resources, and Shahryar Heydari, director of technologies, worked on bringing WEPA to Piedmont. They conducted a feasibility study to analyze student printing habits and decided that WEPA was a good choice for Piedmont.
"We started looking last academic year for ways across campus that we could still provide service, save money and maybe be more friendly to the environment," said Misner. "If you think about printing, it's really easy to be wasteful there."
According to the company's website, WEPA takes the burden of budgeting for on-campus printing off the college.
"Over the course of a few years, this could literally save the institution hundreds of thousands of dollars," said Misner.
In the past, the college was responsible for providing printing resources, including paper, toner and printer servicing. According to Misner, he new WEPA systems will eliminate this cost.
"The WEPA folks service the machines as far as paper and toner," he said. "They also installed all of the machines."
However, saving resources and money is not the only goal Piedmont wants to meet with WEPA.
"It's part of a coordinated effort to get faculty using Moodle," said Misner. "It also encourages responsibility, from the student's perspective and the faculty's."
Students can find WEPA kiosks across the Demorest campus in places such as the library, Daniel Hall and Stewart Hall. For a full list of locations, check out the map.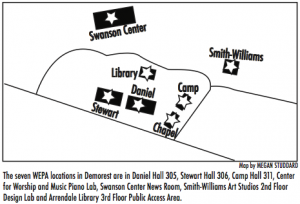 There are a variety of ways for students to use the WEPA kiosks. Files can be uploaded via WEPA's website from virtually any location. After uploading, students receive a code to enter into the kiosk. There are also apps for both iPhone and Android where students can upload a range of files, from PDFs to Microsoft Word documents.
Piedmont gives students $50 worth of free printing preloaded onto their WEPA accounts per year.
According to Misner, that equals almost 600 one-sided, black-and-white pages. However, that number is actually closer to 550 if students only print in black-and-white. One-sided black and white prints cost nine cents per page, and two-sided prints cost 15 cents per page.
Printing in color is more expensive. One-sided color prints are 49 cents, while printing on both sides costs 97 cents.
"We're one of the few schools that actually pays for printing for the students," said Misner. "A lot of the other schools put it on the students' dime. We thought it was important that we at least give you 600 pages."
Several institutions have already embraced WEPA, including Brenau University, South Georgia College, Georgia Military College and the University of Georgia.
"We're two weeks into it. We think it's going well," Misner said. "We knew there would be some confusion with students, but we think it's going well."
Students have different reactions about the WEPA printers.
"They're good, but they're complicated," said sophomore nursing major Ebony Reeves. "I have a lot of stuff to print off. How am I supposed to pay for that?"
"As psychology majors, we do a lot of research. We have to write research papers and [our professors] want us to print off the articles we use. If I have to print off all of those pages, I won't be able to afford it," said Leighann Crump, junior psychology major.
"I haven't used them" said junior nursing major Kasey Headrick. "I'd rather use my own personal printer."
Watch this video to learn how to use the WEPA kiosks:
Leave a Comment