Furry Friend on Campus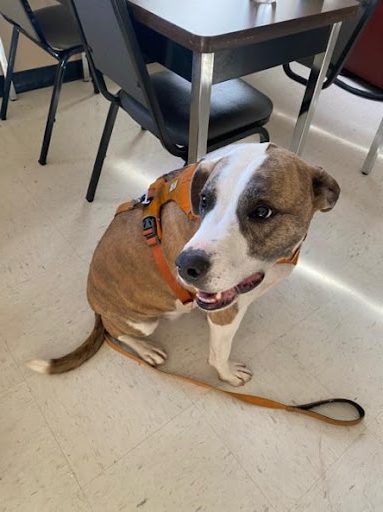 Does your professor bring his dog to class? If not, you're missing out. 
Dr. Friedline, a psychology professor and head of the neuroscience department, often brings his best friend to class. His best friend just happens to be his furry friend, Arlo. Friedline adopted Arlo from an animal rescue and the pair have been inseparable since. 
"I love Arlo," said senior psychology major, Aria Solano. "Anytime I see him it brightens up my day and he can always reduce my stress. Some may think having him in the classroom is distracting, but honestly he's more comforting than anything. My favorite thing about him is how sweet he is and how much he loves to be around us." 
Arlo provides a feeling of comfort to students. Imagine sitting in class just stressed and overwhelmed and suddenly Arlo comes to comfort you. Many students who attend Piedmont had to leave their furry friends at home. Having Arlo roam around campus makes missing childhood pets not so bad. 
"Arlo is the best boy ever," said junior psychology major, Madi Gallerelli. "He is the honorary mascot of the psych department."
Gallerelli shares the positive impact Arlo's presence has on the classroom environment. 
"When Arlo comes to class he just brightens your day. He has a little path he takes and does his rounds around the room. He'll come sit and lay on your feet to make you feel so loved. He'll put his head on your lap when he wants pets, and you always know if he likes you if he falls asleep at your feet. He just has the best time ever and he lives and breathes to be loved and give love to everyone around him. I love seeing him whenever I get the chance."
If you ever find yourself on the first floor of the library and a furry friend is licking your feet, don't be alarmed, Arlo is just saying hello!