Don Fily's Review: An Authentic Treasure in Habersham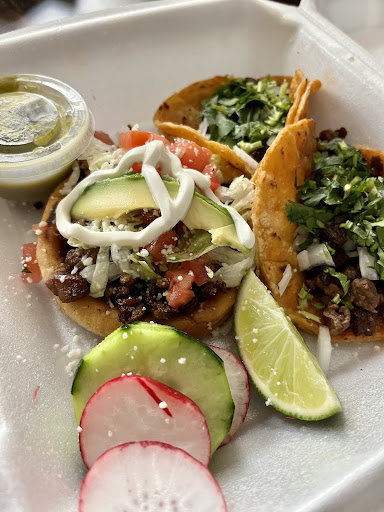 The two things college students consider when it comes to eating out are location and price. It is safe to say that many of us are budgeting to the best of our abilities, but it's hard to refuse an opportunity to eat off campus. 
Don Fily's Tacos is a hidden gem. It's an authentic Mexican restaurant located inside of a Chevron convenience store, and is just a few short minutes from Piedmont University. The location is humbling, but the taste is delicious. 
From street tacos to burritos to tortas, Don Fily's Tacos has endless options for your taste buds. When ordering tacos, you can choose from their assorted meat menu and you're golden. The portion options are entirely up to you, but three bona fide tacos for $7 is a tough deal to beat. They come covered in thinly sliced pieces of fresh onion and cilantro, served with a tangy green sauce on the side and they really make you think, "yeah, these are Don Fily's tacos" in the best way possible. For their burritos and tortas, the sizes of these juicy bundles of meat, cheese and other various toppings are plentiful enough to split into at least two meals. That's basically two burritos or tortas for $9. And yes, that sweet cheeky green salsa comes with these items too. 
Because this Mexican treasure is inside of a gas station, the scenery isn't entirely appealing at first glance. Nevertheless, every business has to start somewhere. The kitchen and ordering counter is located in the back corner of the store, squeezed in between a soda fountain and a cappuccino machine. While gas stations typically boast poor reputations in terms of cleanliness, Don Fily's is clearly cared for, illustrated by a 99 health score. You're always greeted at the Don Fily's counter with someone who is ready to serve you. 
After you order, the anticipation of receiving your food can feel endless. It's probably best to distract yourself by browsing through the aisles of the convenience store. You could even buy yourself a drink or fill up your gas tank. 
The best way to treat your palette is by taking it to-go and enjoying it with your friends. Seating is an option if you're in a pinch, but it is limited due to the size of the restaurant. There is nothing more satisfying than rewarding a hard week with the savory goodness of a Don Fily's authentic street taco. Sharing the indulgence with the right company makes the experience all the more merrier. 
The popularity of Don Fily's Tacos is on the rise. Word has gotten around among students who rave about the simplistic and kosher quality of the food, and the college-budget friendly prices. Before the rest of the town finds out about this hidden treasure, take a detour to the Chevron off of Demorest Mount Airy Highway  and savor your Don Fily's.