The Rihanna Effect: A Review of the Super Bowl LVII Halftime Show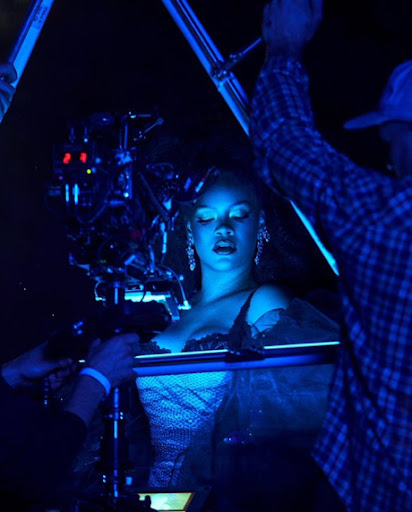 When the news broke that Rihanna would perform live for the first time in seven years, I knew nothing could get in the way of watching her do her thing. The only thing I couldn't figure out was why there was a football game before and after the Rihanna concert! 
All jokes aside, Super Bowl LVII took place on Sunday, February 12, which featured a highly anticipated matchup between the Kansas City Chiefs and the Philadelphia Eagles. As many know, the commercials and halftime show are also very much anticipated, especially knowing Rihanna, a true icon, would be taking the stage and doing what she does best: shining bright like a diamond.
Speaking of her song titles, Rihanna showed us just how many hits she really has and how long she has had the music world in the palm of her hand. "Better Have My Money," "We Found Love," "Work" "Wild Thoughts," "All Of The Lights," "Run This Town" and "Umbrella" kept the party pumping, with "Diamonds" closing out the show as the final song. 
Her performance was unique and captivating for many reasons, the first and most noticeable being the "levitating" platforms that served as a stage in mid-air, complemented by what looked like hundreds of dancers in distinct white costumes. With the various stages moving up and down on cables while Rihanna sang, dancers performing in sync and a massive fireworks display to complement,  the visuals came together in a very pleasing and vibrant way.
 These touches weren't the only way Rihanna wowed us. Dawning a skin-tight red jumpsuit with a complimentary molded leather bustier, she looked as good as she sounded, and the outfit gave her the chance to show off what reps confirmed to be a baby bump, her second child with rapper A$AP Rocky.
"Her outfit was the majority of the pregnancy reveal, and it proved to be a lesson in media literacy," said Michelle Cates, a freshman mass communications major at Piedmont University. "The clothing accentuated and called attention to her pregnancy, and many people still didn't pick up on what her outfit choice really meant."
Such an iconic Rihanna showcase leaves fans looking for more, as many are hopeful for new music. Her last album, "Anti," was released in 2016, and ever since, the call for more Rihanna has only grown. 
 While Super Bowl LVII proved to be a great game down until the game clock hit zero, the halftime show orchestrated by a queen like Rihanna added such a beneficial element to the overall entertainment. While there is no question about how influential and impressive Rihanna is, one thing the world will continue to wonder about is when we will see her again in a live performance. 
Until then, this performance is sure to be remembered as iconic and groundbreaking for Ri-Ri fans around the globe.