Super Bowl Deserves a Flag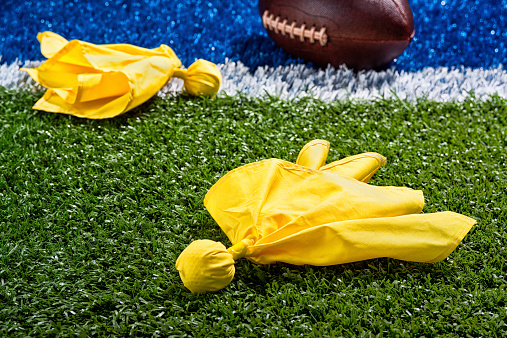 The Super Bowl is supposed to be the ultimate conclusion to the culmination of the NFL season. We certainly got that this year! Both teams were hot offensively! Jalen Hurts finished the game with 4 total touchdowns, 304 yards passing, a 103.4 passer rating and 70 yards rushing. Patrick Mahomes finished the night with 182 yards passing, 3 touchdowns and the Super Bowl MVP as the Chiefs ended the night victorious by a final score of 38-35. However, it, unfortunately, comes with a lot of questions.
Prior to this game, NFL commissioner Roger Goodell praised the officiating crews this NFL season, saying that he doesn't think officiating "has ever been better." These are the same officials who were being slammed by fans for not knowing what a rushing the passer call looks like. The same officials still don't know what a catch truly is or how to assess everyday interactions between defensive backs and receivers. We have especially seen these issues become more egregious when these decisions are made in the final minutes of play, often swaying the winners and losers of games. This is what was unfortunately witnessed during this year's Super Bowl, and it almost completely taints every good thing that ever occurred before this.
With a little over a minute left and the score tied at 35, the Kansas City Chiefs are well in field goal range when a flag is thrown on the Eagles' defense for an arguable defensive holding call. This penalty gave the Chiefs an automatic first down, giving them the freedom to milk the clock down to the final seconds to kick a game-winning field goal. Fans and athletes alike expressed their outrage over this call, as it did ultimately decide the biggest game of the NFL season.
What makes this call even more frustrating is the knowledge fans have that the NFL has review capability. Officials can look back on calls to correct or clarify a call, and zero action was taken by the NFL to make this necessary review. Rules analysts and color commentators were left, like so many fans, scratching their heads in disbelief. The officiating crew Goodell has deemed to be "never better" is responsible for the most penalties called in the past two NFL seasons. Right now, it feels like he's right. The officiating has never been any better, but that's exactly the problem.
The result is that now instead of fans talking about how great this game was, and the performances of the players in this game, they are going to be talking about this call. The headlines that hyped this game no one is really talking about now because one flag now takes the spotlight from all that was wonderful about this game.