Leading Lion: PC Baseball
Chris White
Freshman, biology major
High School: Johnson High School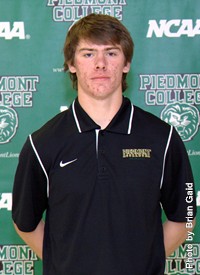 Position: Right outfield
Hometown: Flowery Branch, GA
Experience: I've been
playing baseball since I was about 3 years old.
What are your rituals and supersitions?
The only pregame ritual I have is hitting off the tee to warm up.
Why did you choose PC?
I chose PC because my dad played baseball here, and I always enjoyed coming up here to play ball. Also, it is not far  from homo for me.
What is your greatest personal achievement?
It was great to record my first college hit.
What do you want to do after college?
I would like to be a personal trainer.
What is your greatest memory on the team?
 When we put up seven or eight hits in a row against Chattanooga State and beat them
What is the best part of being on the team?
For me, it is just being recognized as a college athlete.