Megan McClain
Senior, early childhood
education major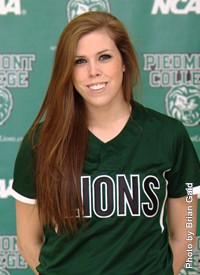 High School: Oconee County High School
Position: Shortstop
Hometown: Watkinsville, Ga.
Experience: I have played softball for 17 years
What are your superstitions and pregame rituals? 
My pregame ritual is always throwing with Jamie Dennis.
Why did you choose PC? 
I came to Piedmont College because of softball.
What is your greatest personal achievement? 
My greatest achievement was getting second place at regionals my sophomore year.
What do you want to do after you graduate?
After college, I want to get my masters and get a teaching job.
This season, McClain had 135 at bats. Out of those 135 at bats, she had 52 hits, 36 of which were runs. She had 18 runs batted in. She lead the team with the most at bats and the most runs on the season.