PC Soccer is Scotland Bound: The Lady Lions plan a preseason trip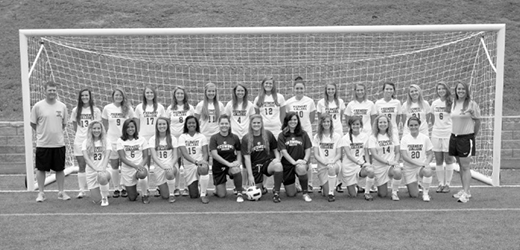 By ALEXANDRA SMITH
Sports Editor
The women's soccer team is going on a ten day trip this summer to Scotland and England as a part of their preseason training. The team leaves on July 18 and returns July 28. 
The Lady Lions will be participate in a tour by Challenger World Tours that will both train the team and set up games. 
"I'm looking forward to the overall experience of being able to work with coaches from other countries and soccer leagues, as well as enjoying team bonding away from Piedmont," said junior Cydney Goodwin. 
There are 11 players going on the trip, the exact amount needed to play. However, this setback has not dampened the team's spirit. 
"It will be beneficial to our preseason because it will help get us in shape and get us united as a team before practice starts," said sophomore Kelsey Schaffernoth.
The Lady Lions are unsure of the level of competition that they will be facing. They are just looking forward to the time that they will be spending together. 
Piedmont women's soccer coach, who is from Scotland, Petey Andrews, is familiar with Challenger World Tours.
The team has been fund raising for this trip since hey found out that they were going last spring. They worked in the concession stand at the Gwinnett Braves last spring and summer, held a soccer tournament for high school teams and sold T-shirts during this past season. 
The trip will also take the Lions on tours throughout the two countries. Some stops will include tours of the Manchester United and Liverpool team stadiums, Conwy Castle, and Edinbugh Castle, to name a few.
The team will also be attending three professional games while on their tour: two in England and one in Scotland. 
The Piedmont College women's soccer team saw its 2012 season come to end as host Meredith College found a golden goal late in double overtime to earn a 1-0 victory in quarterfinal action of the USA South Athletic Conference Championship Tournament.