Piedmont Sports Wrap-Up: Nov. 1, 2022
Women's Cross Country
Paced by a 1st-place win finish by senior Jaycie Ponce, the Piedmont women's cross country team earned the inaugural College Conference of the South (CCS) championship, it's second  traveled to Montgomery, Alabama this past weekend to compete in the first ever CCS Championship this year.
"I was really excited to win the race, and I wasn't expecting to do as well as I did, considering it was such a challenging course," Ponce said. "It was definitely a little bit of an unpredictable course and time to run at, so with all of us doing so well, it was a great testament to all the hard work we have been doing all season. This meet shows how strong we are, and since the region's course is flat and fast this year, I am excited to see how fast we can all run on a flat course that isn't as challenging as the one we competed on for conference."
Ponce finished with a time 22:51.1, easily outracing the 2nd-place runner by more than 10 seconds. Ponce led a group of three other Lady Lions who finished in the top 10. Freshman Anna Gibson recorded a personal best (PR) time of 25:04.5 for 4th place, while Skyler Seeber ran a time of 25:10.7 for 5th place. In 9th place was senior Leeann Lawrence with a PR time of 25:38.8.
The conference crown is the team's first since 2016 (in the USA South Conference).
"These women have continued to exceed expectations, race after race," said head coach Jamie Jamison, who was named CCS Coach of the Year after the meet. "This is a young and inexperienced team that raced like a bunch of seasoned veterans. The ladies came out today on a mission, and they fought over and over until they got to the line and reaped the benefits of a remarkable season and a remarkable race."
The Lady Lions will send five runners to the NCAA South Regionals, held Nov. 12 in Newport News, Virginia.
—Connor Rogers
Men's Cross Country
This past weekend, the Piedmont University men's cross country competed at the CCS Championship, finishing second overall, with 10 runners finishing in the top 20, trailing only Berea College by nine points.
"We couldn't have been more happier with the effort that the team has put in all season and the passion that everyone came into the meet with," said sophomore Zane Smith.
Many Lions found PRs as they struggled for placement rather than time. With a time of 26:50.7, sophomore Layton Bradford led Piedmont again, finishing in 6th place. In 7th place, senior Darius Smith ran 27.09.2, showing great speed. The next Lion to cross was senior Jacob Balot, who finished in 27:23.2. He was followed by sophomore Tucker Cox, who finished in 27.31.8, a 15-second PR.
Rounding out the Lions' finishes were senior Cole Elrod, who set a new career record by 25 seconds at 27:44.7, and also a new season record by 40 seconds. With a 27:46.5 time, senior Gary Halverson outran his Berea competitor for highly needed-points. As the Lions pushed for victory, junior Jadon Gonzales finished right behind them with a 27:55.2.
"Everyone gave every ounce of themselves in the race from start to finish, and that's all you can ask anyone to do," said Smith. "After this past race, the team knows what they need to improve on by the region meet, and the future looks extremely luminescent for the Piedmont cross country team!"
Piedmont's top seven runners at the CCS meet will compete at the NCAA Southeast Regional meet in Newport News, Virginia, on Nov. 12.
—Leandro Forero
Men's Soccer
After opening the CCS tournament with a 3-1 win against Berea College on Oct. 26, the Piedmont men's soccer team was riding a 3-game winning streak into semifinal play. Unfortunately, the the streak was snapped at LaGrange, with the team losing 2-0 in the conference semifinals.
Seeded 4th, Piedmont had high hopes to pull off an upset in the game, starting out with freshman forward Colin Vogel
hitting the goalpost. LaGrange senior Enrique Hernandez earned his 21st goal of the season to gain the lead for LaGrange en route to the 2-0 win.
Junior midfielder Ricardo Ruiz said the team knew they were going to have to fight hard in this match. "We knew we were going to have to face a hard opponent going into this game," said Ruiz. "Some things just did not go our way, but we fought together and hard all the way until the end of the game. We were proud of how we ended the season because we significantly improved."
The Lions ended the season with a 4-9-5 record (2-3-1). 
—Emma Marti
Women's Soccer
The women's soccer team's quest for a back-to-back conference championship began Saturday with a dominant 4-0 quarterfinal against Agnes Scott College.
Senior Abby Judge scored the game-winning goal in the fourth minute. Her score set the pace for two other first-half goals from juniors Elissa Lotter and Maddy Paris. Freshman Sierra Judson found the back of the net in the second half, sealing the 4-0 Piedmont victory.
The Lady Lions have still not allowed a goal against a conference opponent since Sept. 24.
Piedmont will host Covenant College on Nov. 2 at the Walker Athletic Conference. Kickoff is at 6 p.m.
—Aaron Palmer
Volleyball
The Piedmont volleyball team concluded its 2022 regular season on Oct. 29, falling to both Huntingdon and Berea in a CCS Tri-Match hosted by Berea College.
The Lady Lions began the day against the Huntingdon Hawks, playing the middle match 
and falling in three sets. Their second match against the Berea Mountaineers came that 
evening where the Lions battled the Mountaineers to a four-set defeat.
On the day, freshman Katie Hubbard and junior Alaina McDonald led Piedmont with 12 kills over the two matches. Sophomore Jenna Ash earned four blocks and junior Taylor Herrmann tallied 59 digs.
"This past weekend we struggled against some really good teams but taking one set from Berea 
felt good," said junior hitter Jessica Sconyers. "We were very evenly matched against Huntington and 
Berea so we had them on their toes the whole time. We're just missing a few key tenets that we 
have to work on in practice before the Conference Tournament this weekend."
The Lady Lions are in line to be the No. 6 seed in the 8-team CCS Tournament. The first round begins 
Nov. 1.
—Anya Olson
Men's & Women's Swimming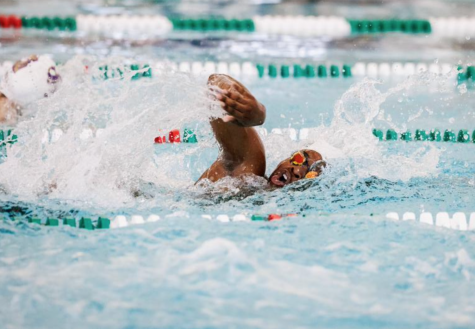 This past weekend the men's and women's swim teams dominated their opponents, outscoring them by over 40 points. The women outscored Brenau University 132-33 and Point University 132-23, while the men bested Point 125-75.
The Lions won eight events on both the men's and women's side. Junior Ross Coppedge won the 50-yard freestyle and 200-yard medley relay. Sophomore Leandro Forero also had huge wins on the day, taking the 1000-yard freestyle and was also a part of the winning 200-yard medley relay team that also included Coppedge, freshman Luke Borgmann and freshman Baden Stewart. Borgmann and junior Jon Brown grabbed first and second place, respectively, in the 100- yard butterfly.
On the women's side, sophomore Madison Nance continued her win streak and stellar season winning the 200-yard individual medley and was also a part of the 200-yard medley relay team along with freshmen Maggie Bishop and Jenise Waithe. Bishop took the crown in the 1000-yard freestyle and and Waithe claimed first in the 50-yard freestyle.
"Going into the meet, my goal from the beginning was to break 28 seconds in my 50 free and win my event," said Waithe.  "So when I hit the touchpad and looked up and saw that not only did I go 27.55, but I also won the event as a whole, I was really excited. We also got little duckies as our trophies which i thought were cute."
The Piedmont swimmers will travel to Asheville, North Carolina for their next meet against Warren Wilson on Nov. 5.
—Silas Sandles