"Black Panther: Wakanda Forever" Movie Review: The Acceptance of Loss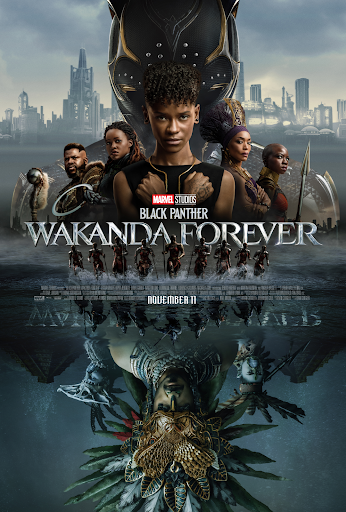 After suffering the loss of Chadwick Boseman, the Marvel Universe was left with an emotional gap where King T'Challa, the Black Panther, used to be. How could the return to Wakanda ever be the same?
Director and writer, Ryan Coogler, decided to use the feelings of grief over the loss of their dear friend as one of the main motifs throughout "Black Panther: Wakanda Forever" with the opening scene capturing T'Challa's off-screen death. The Wakandan people were left feeling his ghost haunt their spirits and turned to their ancestors to mourn. Shuri, played by Letitia Wright, and Queen Ramonda, played by Angela Bassett, cope with the loss of their king while also battling the political discrepancies of other countries that seek Wakanda's main resource, vibranium. Even in superhero films, losing family can be a difficult feat. 
This film also introduces Namor, played by Tenoch Huerta, as the antagonist and ruler of Talokan. He poses as a threat to the United States and is using Wakanda as his scape-goat during their weakest time without the Black Panther.
It is also worth mentioning how culturally diverse "Black Panther: Wakanda Forever" is. Viewers get to experience the culture of Wakanda as well as the influences of Mesoamerian cultures in Talokan. Their different views on life, death and revenge are what tie the two nations together during a time of cultural and political crises. 
"Black Panther: Wakanda Forever" teaches its audience about the acceptance of loss while also delivering an action-packed movie Marvel fans would expect. This is the final phase four movie in the MCU with phase five kicking off in February with "Antman and the Wasp: Quantumainia." So be sure to watch this overpowering and heartfelt film.