Piedmont Sports Wrap-Up: Sept. 27, 2022
Men's & Women's Cross Country
The men's and women's cross country team competed at the Queen City Invitational in Charlotte, North Carolina on Sept. 23.
"This was an opportunity for our team to compete against high quality competition in great conditions," said head coach Jamie Jimison. "I was very proud of the performances for both men's and women's teams."
Jimison noted that of the 19 Piedmont runners competing, 10 posted a personal best time. "Everyone stepped up and really gave a glimpse of what they are capable of this season," he said.
The top runner for the women's team was senior Jaycie Ponce. Her time of 19:03 in the 5k was the second fastest in school history and her personal best. Ponce finished the race 27th out of 144 runners, pacing the Lady Lions to an 11th place finish (out of 16 teams). On the men's side, senior Gary Halverson posted a time of 26:21, running the 2nd fastest time of his career, and finished 32nd overall out of 130 runners. The men finished 10th out of 15 teams.
"Both runners have led our teams at each meet this season, and are only getting better each week," Jimison said.
The cross country teams will next race at Asics Invitational at Clayton State University on Oct. 1. 
—Jordan Burch
Volleyball
After starting the season 0-8, the Piedmont volleyball team set their sights on conference play last week. They opened CCS play by defeating Wesleyan College on Sept. 22, but lost their next two in a tri-match against Maryville College and Belhaven University on Sept. 24.
Sophomore Jenna Ash continues to play well near the pin as she is leading the team with 82 kills. The lead libero on the squad, junior Taylor Hermann, leads the team in digs with 223. Junior setter Brooklyn Gunn tops the team with 159 assists, and sophomore Jia Weathersby leads the team with 26 blocks.
Despite the slow start to the season, players continue to be optimistic about the season. The issue that continues to plague the Lady Lions is their inability to finish sets, as they frequently drop sets by single digits. The team nearly upset Belhaven, taking the Blazers to five sets.
"I'm proud of how hard we fought," said senior Ciera Phelps. "Even though the outcome wasn't what we wanted we were able to come together and stay competitive."
The Lady Lions (1-10, 1-2) will be back in action on Sept. 28 at Cave Arena against Agnes Scott College at 7 p.m.
—Chad Hall
Women's Soccer
After a brutal non-conference season facing nationally-ranked competition, the women's soccer team opened conference play on Sept. 21 with a scoreless tie against Convenant College and a 1-0 loss against Belhaven University on Sept. 24. The Lady Lions got back on the winning track on Sept. 25 with 2-1 non-conference win over Warren Wilson.
Despite having a 3-4-1 record, team members feel optimistic about the season as they hope to win the inaugural Collegiate Conference of the South championship after opening the season as preseason favorites.
"Once we gain some more chemistry as a team we'll definitely be a powerhouse this season," said senior midfielder Anya Olson.
Olson said the team had a lot of shots that didn't go their way and that will be one thing they will continue to work on in practice. In Sunday's win against Warren Wilson, senior forward Kaylee King broke out of her slump (one goal in five games) by scoring in the 36th minute and again in the 52nd minute.
"It feels good to be back in the win column," King said. "A win is a win, no matter the score, but for me to have tallied both goals feels good."
The Lady Lions will plays head to Agnes Scott College for a conference game on Sept. 28.
—Jessica Sconyers
Men's Soccer
The men's soccer team is still looking for their first win of the season as they dropped their Sept. 24 game against William Peace University 3-0 and falling to 0-5-3.
Freshman goalkeeper Bobby Wood had seven saves on nine shots, but had a collision with a player from William Peace giving freshman goalkeeper Grant Hottel an opportunity to get some minutes. Hottel had four saves on five shots.
Freshmen Colin Vogel, Danny Castro, and Mohammed Alsuweydi had a combined 10 shot attempts and sophomore Jason Aussin had three shot attempts. None of these shots were successful, causing William Peace to cruise through the game with a comfortable lead.
The Lions will open up conference play on Oct. 1 at Berea College.
—Vanessa Manzo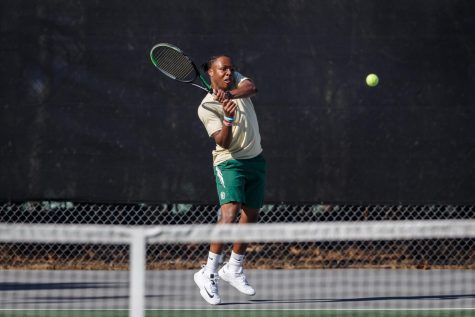 Men's Tennis
The men's tennis team capped off a strong fall season at the Pfeiffer Invitational in Misenheimer, North Carolina on Sept. 24. 
In singles competition, the Lions dominated the competition going 17-3, including four 4-0 performances from juniors Silas Sandles and Leo Galarza, sophomore JC Foster and freshman Austyn Adderly. On the doubles side, the Lions finished 6-4 with the teams of Galarza and Adderly, and Sandles and junior Mike Porcelli, sweeping their doubles opponents.
"Overall, this weekend was really successful for the team and now we have a green vs white tournament this week with the girls," said Sandles, ended up 6-0 on the day.
This closes out the men's tennis fall tournaments this year as they get ready for a big spring season.
—Connor Rogers
Men's & Women's Swimming
In the first swim meet of the season, the men's and women's swim team split at Sewanee at Tallulah Falls School on Sept. 24. The men's team won 181-77. The women's team fell to Sewanee 166-96.
The men's squad dominated the meet, winning 10 events. Junior Ross Coppedge finished first the 50-yard freestyle (22.77) and the 100 yard-freestyle (50.89). Juniors Zane Morgan and Jon Brown, along with freshman Luke Borgmann took the 200-yard medley with a time of 1:42.39. Sophomore Leandro Forero won the 1,000-yard freestyle with a time of 10:19.63 and took the 500- yard freestyle with a time of 4:59.27. Sophomore Erick Fortner won the 50-yard breaststroke with a time of 1:00.11.
For the women, sophomore Madison Nance claimed took first in the 50-yard breaststroke (33.56) and 100-yard breaststroke (1:13.97). Nance was joined by junior Gwyneth Thomas and freshman Caroline Massaro and Hannah Sheffield to win 200-yard medley relay (2:01.86). The team of Thomas, junior Lauren Stone, and freshmen Grace Kopf and Jenise Waithe captured second in the 200-yard freestyle with a time of 1:52.49.
"With this being my first ever meet at Piedmont University, I was surprised to be on the A 200-free relay," Waithe said. "But this made me feel like coach saw some potential in me."
The Piedmont swimmers will host William Peace University on Oct. 8.
—Silas Sandles
Women's Golf
After breaking records In the Transylvania Fall Invite by setting a program record for a best 54-hole score as a team, the Lady
Lions had high hopes for the Montgomery Country Club Women's Intercollegiate on Sept. 25-26 in Alabama.
Freshman Erin Donovan led the Lady Lions golf team finishing 20th out of 77 golfers with a two-day score of 151. On her first day, Donovan was in the top 10 with a 73 after making three birdies, including two on the back nine to finish one under on the back. The freshman continues to break records for Piedmont. After four rounds this fall, Donovan is only nine over par.
Sophomore Sarah Fox posted the second lowest score for Piedmont at 165. Fox scored an 82 on the first day after two birdies,
The next event for the women's golf team is the Rhodes Classic on Mon. Oct. 3 in Tunica, Mississippi.
—Emma Marti
Men's & Women's Cycling
The wheels were rolling this past weekend as four athletes from the Piedmont Cycling Team competed in Banner Elk, N.C. for the High Country Challenge. This was a Dual Conference Colligate race that had teams from all up the east coast and parts of the Midwest competing. The team had several members with podium finishes.
Saturday started with Cross Country where junior Dylan Lindsey took home a second place finish in Men's B. Freshman Katie Prowell finished 16th in a highly contested Women's A category.
Later that day, Dual Slalom racing began. Freshman Hayden Bassett finished third place in Men's B while sophomore teammate Mariajose Montoya secured a fifth place finish in Women's A. Prowell also took a fourth place finish in Women's B.
On Sunday, the team started with short track and Lindsey took a first place finish in Men's B while Prowell secured 15th place in Women's A.
As the rain started to come down, downhill racing began. Montoya had an amazing run taking a first-place finish in Women's A. while Basset raced fast for a 16th finish in Men's B.
—Aaron Palmer