Piedmont Sports Wrap-Up: Sept. 20, 2022
Men's Soccer
After a heartbreaking loss to Pfeiffer College 3-2 last season, the men's soccer team took a different approach to Pfeiffer in their game on Sept. 17, and tied them 90 minutes into the game. 
"Overall as a team we just wanted it more than Pfeiffer," said sophomore Forward Jason Aussin. 
With Pfeiffer scoring in the first half Piedmont needed something to avoid a consecutive loss to their regional rival. "Our halftime talk was super positive and turned the team around," said Forward Colin Vogel.
Aussin took matters into his own hands, scoring his second goal of the season to tie the game at 1. "I think we played well and as a team," he said.
The mens soccer team (0-3-3) will face Berry College on Sept. 20.

—Jessica Sconyers
Women's Soccer
Despite facing a tough loss against East Texas Baptist University on Sunday, the Piedmont women's soccer team was able to bounce back and win against Birmingham Southern 3-0.
"We felt good about it, I think with the heat, it would've been easy to kind of give up, but everyone played hard and did what they had to do," said sophomore midfielder Victoria Sierra. "We were happy with the end result. We had a lot of chances and capitalized on three, which I think was pretty good. In this game, we were better in stepping up as a team to press a bit higher than normal, and we also did better at delaying a counter to get more number behind the ball."
The Lady Lions started out strong, with an early goal from senior forward Jade Edwards in the fourth minute. A breakaway finish from senior midfielder Aria Solano put the Lady Lions ahead 2-0 going into the half. For Solano, it marked her first career goal.
In the second half, senior midfielder Anya Olson put the game away with a top-left shot. Olson had four shots and two shots on goal.
The Lady Lions (2-3) will be heading to Covenant to begin the conference play on Sept. 21.
Men's Tennis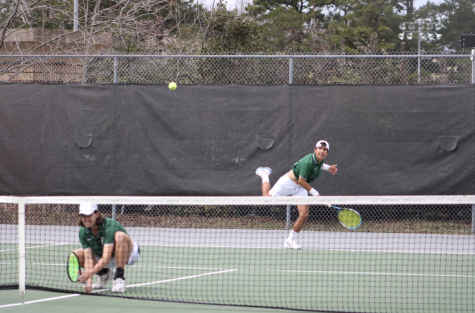 The men's tennis team recently began their fall season at the Young Harris Fall Invitational on Sept. 9-10. They also recently finished up their Sept. 16-17 trip to Alabama where they competed in the Huntington Fall Invitational. 
Piedmont started their season at Young Harris facing schools like Young Harris, Reinhardt and Shorter, allowing the Lions to see a lot of different competition, including a NCAA Division II and an NAIA team. Piedmont brought only a handful of players to the tournament, with sophomore Alberto Nunez, junior Mike Porcelli and junior Kody Dills each sweeping their singles sets.
The Lions would travel to Huntington the following week for the CCS rivals fall
invitational. The team had a successful weekend in Montgomery, with
 many of the players winning sets outright in a clean
sweep. Piedmont was phenomenal in their singles play with standout performers all
across the board, led by sophomores Ryan Raugh, Ryan Johnstone and JC Foster, and freshman Connor Phelps besting their opponents in 
singles competition. When doubles competition rolled around Piedmont took six of the nine matches played.
Junior tennis player Silas
Sandals, who is back for the 2022-23 season after injuring himself last spring, is optimistic about the team's success during the fall season.
"We're on the right track to get a ring for
Piedmont," he said. "We're a young team, but we have the drive and talent to get the job done."
The Lions will travel to Pfeiffer University this coming weekend to take on Pfeiffer and other
opponents as they wrap up their fall competition before resuming play in February 2023, where they will 
face 22 different opponents in the span of two months.
—Chad Hall
Women's Tennis
The Piedmont women's tennis team is off to great start in 2022. The Lady Lions dominated the Huntingdon Invitational with 16 different players ending a successful day with wins.
"I personally think that we have an even better team this year than we did last year," said head coach Trey Martin. "We lost some really big contributors to our program after last season, but we have 4 really talented freshmen who have come in and help raise the level of the program. Plus, the girls from last year's team all came back hungrier than ever to win. I think this might be the deepest most talented team I have ever coached."
The Lady Lions brought home several wins in the singles and doubles competition. Senior Imani Vincent won two singles matches and senior Dakota Wilkes won one singles match and one doubles match with junior Abbey Grace Venham. Freshmen Jordan Ballard and Sarah Row each defeated Huntingdon in the singles competition. Piedmont left the Huntingdon
Invitational winning 19 of their 27 matches.
The Lady Lions head to Emory University Sept. 23 to compete in the Intercollegiate Tennis Association regionals.
—Vanessa Manzo
Volleyball
The Piedmont volleyball team fell 1-3 in their home-opener versus Florida College.
The Falcons of Florida College struck fast, winning 25-18 in the first set before barely pulling out 
the second set 25-23. The Lady Lions responded with force, winning the third set 25-20 
and demanding a fourth set to the game. 
The Falcons dominated the fourth set and came out victorious with a 25-14 win.
Jenna Ash led the Lady Lions with eight kills, alongside fellow sophomore Alaina Mcdonald, 
who struck with five kills. Jessica Sconyers also gave a strong performance with six kills and two 
blocks.
Piedmont came out with a bang to score a 5-3 early lead in the first set. However, the Falcons 
fought hard to gain four straight points, taking a 7-5 lead, which they held onto throughout the 
set.
The second set was a back-and-forth battle, tying the game at 15. The Lady Lions 
lost control as the Falcons won five straight points and were put away at 25-23.
The Lady Lions came out with energy in the third set after the Falcons took an early 7-2 
advantage. After rallying back midway through the set, Piedmont battled, winning the set 25-20.
The momentum shifted back to the Falcons, who kept a steady lead throughout the fourth set, 
rolling to a 25-14 victory and a four-set match win.
"It was a tough game, but we all played hard, especially our back row who did amazing running 
around and diving for balls," Sconyers said. "This week in practice, 
we'll work on plays and hopefully gain an advantage when playing difficult teams in the future."
The Lady Lions (0-6) are set for another home court battle against the Bruins of Bob Jones on 
Sept. 20 at 7 p.m.
—Anya Olson
Men's Golf
The Piedmont University men's golf team began their fall campaign by taking first place in the Rhodes
Invitational, held Sept. 18-19 at Tunica Resorts, Mississippi.
The Rhodes Fall Intercollegiate Tournament had 19 teams and a total of 100 golfers. For the Lions, junior Josh Hebrink and senior F
red Roberts IV both shot 5-under to finish for a tie for first
 place. Hebrink shot a 67-71-73 while Roberts
IV shot 74-71-66. Roberts IV 66 was a program round record 6-under. Hebrink started the day in the lead
and moved ahead by three strokes after making a birdie on his third hole. Only Roberts IV was able to tie
him as the junior from Elk River, Minnesota closed out his round with six straight pars despite having
two bogeys on his record.
"I was happy to get back out there on the course again and couldn't have asked for a better
performance from myself, but as a team as well," said Hebrink. "Hopefully this momentum will carry out
throughout the fall."
The Lions will travel to Greensboro, North Carolina to play Greensboro College at the Starmount Forest 
Country Club on Sept. 26.
—Connor Rogers