Fear Speaks Louder Than Words: A Preview of "Sister"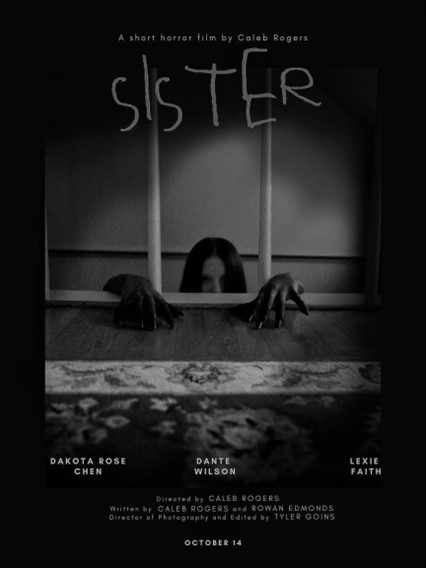 Everyone knows the feeling: when you switch off the lights before racing up the stairs, when you are the last person wandering the halls of the office or when you're home alone standing in front of the window facing the backyard looking at darkness. Caleb Rogers, Rowan Edmonds and Tyler Goins capture the threatening feeling of tall shadows and dark hallways in their newest short film "Sister." 
"Sister," featuring the talents of freshmen musical theatre major Dakota Rose Chen, takes advantage of the gut instinct that makes your hair stand on end in their attempt to employ the suspense of classic horror. Chen stars as Grace, a young woman, coping with the untimely and tragic death of her younger sister. Grace's grief haunts her, quite literally, characterized by a sinister figure, performed by senior mass communications and theatre arts major, Dante Wilson. The film additionally features the talents of junior musical theatre major, Lexie Partain. 
Rogers, most recently awarded a Silver Telly alongside Goins, takes lead as director in the new project. Edmonds serves as the assistant director and Goins as the director of photography and lead editor. Edmonds and Rogers joined forces to write the script of the film, keeping dialogue to a bare minimum, and opted to focus their energy on building unease off of the imagery of the film. 
"For me, 'Sister' is serving as a trial of whether we can effectively employ tension building to terrify audiences," says Rogers. "'Sister' uses all the fundamental elements of the thriller to scare you one frame at a time, building an excellent character portrayal that will revive your nightmares."
The two were inspired by other short films, specifically the likes of "Lights Out" and "The Smiling Man," as they built the story. 
"Sister," will premiere Oct. 14 alongside a screening of "Hocus Pocus" in Piedmont University's Demorest campus quad. The short film will be available for audiences just in time for the Halloween season. If you are a fan of painstaking suspense and haunting visuals, you will not want to miss the newest work of Rogers, Edmonds and Goins. 
Follow along on the Instagram page @sistershortfilm2022 to stay up-to-date on the production progress and where the film will be available upon release.
View the trailer here: https://www.youtube.com/watch?app=desktop&v=u8INQx-Kin0&feature=youtu.be