Piedmont Sports Wrap-Up: Sept. 13, 2022
Women's Golf
The women's golf team is coming off a record-breaking performance this weekend at the Transylvania Invite in Lexington, Kentucky. In the season-opening tournament, the Lady Lions set a record for best 54-hole score as a team, crushing their previous record by 41 shots and a 968 team score over the three rounds.
"With four out of the five of our starting lineup being underclassmen, we have lots of talent and potential for the future of this program," said Head Coach Hannah Satterfield.
Freshman Erin Donovan came out strong setting the individual 54-hole program best mark. Donovan stayed consistent all weekend, carding a 73, but saving her best for last with five birdies in the final round to finish fifth at the event. Junior Savannah Barefoot finished second on the team with a 78, marking a personal best. Barefoot birdied eight and shot just +3 on the front- and back-nines. Sophomore Sarah Fox carded 78 to give the Lady Lion's three scores in the 70s.
The Lady Lion dominated the course this weekend with quality performances from all players. This record-breaking performance primes Piedmont for future competitions.
"I'm very pleased with how the girls performed," said Satterfield. "I look forward to seeing what the future holds for these girls."
The Lady Lions will compete on Sept. 25-26 at the MCC Women's Intercollegiate in Montgomery, Alabama.
—Anya Olson
Volleyball
The Women's Volleyball team got off to a slow start in their first week of competition. The Lady Lions traveled to Averett for their first tournament of the season, falling to Meredith College, Averett University, William Peace University and Roanoke College.
Despite going 0-4 in their first 4 matches, the team found themselves only losing sets by a few points. Piedmont took Roanoke College to five sets as Roanoke came away winning the match 3-2.
On Sept. 6 the Lady Lions traveled to Oglethorpe to face the Stormy Petrels in a non-conference matchup. The team lost in three sets, but continued to battle in every set.
Top performers from the first five matches of the season included Taylor Hermann, Brooklyn Gunn, Jenna Ash, Jessica Sconyers and Hannah Kate Chadwell. Hermann, the team's only libero, leads the team with 90 digs. Gunn leads the team with 84 assists. Ash, who was a standout performer last season, leads the team with 41 kills. Sconyers continues her success from last season, leading the team with 13 blocks.
The volleyball team will have a short break before they are back in action against Florida College at Cave Arena on Sept. 16. That match is followed by a short road trip to Toccoa Falls College on Sept. 17 for non-conference matchup.
—Chad Hall
 Cross Country
On Sept. 9, the men's and women's cross country teams traveled to Oakwood for the UNG Invitational. The men's team defended their title, claiming the first place at the event. The women's team finished third,
With seniors Gary Halverson and Darius Smith placing in the top 10, the two secured the title for the Lions. Halverson placed fifth with a time of 27:01.8 and Smith placed 10th at 28.02.6. The Lions scored 39 points, beating out second place Young Harris College with 51 points and Morehouse College with 69 points.
"It's a great experience to be captain with all these guys because of their great work ethic and camaraderie," said senior team captain Cole Elrod. "There is no true number one runner on this team, and everyone is capable of finishing at the top. That is what will continue to bring in championships for this program."
Senior Jaycie Ponce paced the Lady Lions by running 19:52.5 in the 5k, finishing in the top 10. Other Lady Lions who placed include freshman Skyler Seeber with a time of 21:00.03, freshman Anna Gibson with 21:26.8 and senior Leeann Lawrence finishing with a 21:53.6.
"I want everyone to have fun and enjoy competing with one another," said Ponce. "If we can be successful in that, we will have a successful season."
The cross country teams will have a weekend off before heading to Charlotte, North Carolina for the Queen City Invitational, hosted by Queens University.
—Emma Marti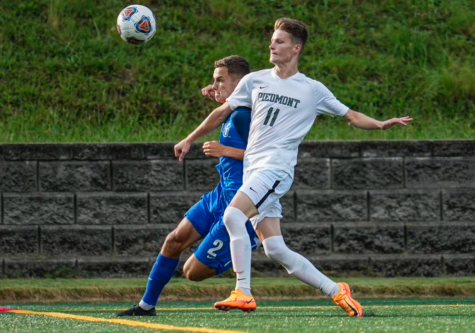 Men's Soccer
Facing tough competition this past weekend, the Piedmont men's soccer team fell short to Greensboro College 4-2 and Reinhardt University 3-1.
"I believe the team played extremely well at moments, but we did have moments where it was rough," said freshman midfielder Jackson Shirley. "Overall, the team worked hard, and I'm happy with how much work the players put on and off the field. I am not happy with the result at all. We made four mistakes, and they were able to capitalize it, which sucks that we lost, but we just have to keep our heads up and come up strong the next games."
Against Greensboro, there were numerous back-and-forth exchanges during the first half between both offenses. After a slow start, Piedmont jumped on top early in the 7th minute with a goal from senior Jared Grage. Freshman Colin Vogel added a goal to his name in the 26th minute, assisted by sophomore Jason Aussin giving the Lions the lead at the half. Vogel had five shots and two shots on goal, and Aussin had three shots and one shot on goal.
The Lions will host Bob Jones University on Thursday, Sept. 15 at the Walker Athletic Complex.
—Leandro Forero
Women's Soccer
The Piedmont women's soccer team is off to a slow start in the 2022 season with a 1-3 record. Dropping matches to Pacific Lutheran University, University of Puget Sound and East Texas Baptist University, the Lady Lions are hoping to pick up the pace and get back to playing like usual.
"This team and season are encouraging to me this year," said sophomore defender Ayndi Wimmer. "Coming back from the loss in the conference finals last year, although winning the regular season, I think this year we have an even better chance to win it all. The new girls have brought so much energy and fulfilling some of the key spots we lost from our seniors last year.
Key players Kaity Hemperly, Anya Olson, Victoria Sierra, Kaylee King and Katy Brown contributed to Piedmont's 5-0 win over Toccoa Falls on Friday night. Sophomore goalkeeper Haylee Dornan recorded eight saves during the Sunday morning match against East Texas Baptist. A penalty kick goal by senior defender Abby Judge gave the Piedmont Lions a first-half lead. However, this wasn't enough as the Lady Lions fall short to ETBU. Despite the loss, Wimmer has high hopes for the team heading into conference play.
"The chemistry is starting to form so well, and it's been amazing to play on the field with everyone," she said. "Our team has such a unique bond on and off the field, it's what makes me love being a part of the program here at Piedmont especially with our coach, he makes us love what we do."
The Lady Lions hope to have another win at home under their belts as they take on Birmingham-Southern College this Friday.
—Vanessa Manzo
Men's Tennis
As the only NCAA Division III team at the tournament, the Piedmont's men's tennis team had fought hard Young Harris Fall Invitational, picking up eight singles wins.
"We've only had two days of official practice beforehand, and I was very proud of the way all the boys competed," said senior Cooper Kework, who along with sophomore Ryan Raugh finished the day with a 2-0 record.
Freshman Yannick Wassmer, Connor Phelps and Austyn Adderly earned their first collegiate wins at the tournament.
"Yannick Wassmer Navarro opened his career with a big win over Young Harris's number 2 player," said head coach Matt Williams.
The Lions will be playing the Huntington Hawks on Sept. 16 in Alabama.
—Jessica Sconyers
Women's Tennis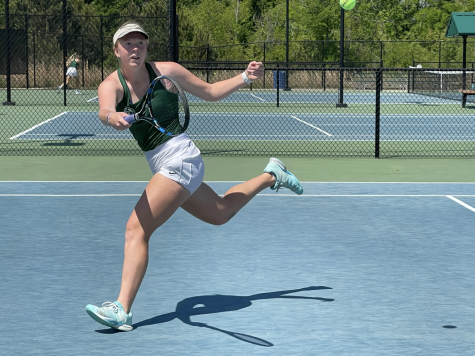 This past weekend the Lady Lions tennis team held their fall home opener with a tournament hosting four teams.
To kick off their fall schedule, the women's tennis team hosted the first-ever Piedmont Invitational on Friday, Sept. 9. After the original home opener against Emmanuel College got rained out, the team hosted Brenau University, Maryville College, Methodist University and Brevard College in a 62-match, two-day showdown.
Each player from each team played at least one singles and one doubles match. The Lady Lions racked up 17 singles wins with four players earning their first career wins: Jordan Ballard, Elizabeth Ivey, Amanda Barrett and Sarah Row. Junior Abbey Grace Venham and sophomore Alyssa McSpadden paced the Lady Lions, winning both their doubles and singles matches.
"I feel confident considering we won the championship last season. I feel like we have shoes to keep filled and I want the name we've built to remain," said Venham. "The name we made for this team is something other schools want to take, and the last thing I want to do is allow that to be possible."
The Lady Lions travel to Alabama this weekend to take place in the Huntingdon Fall Invitational in Montgomery on Sept. 16-17.
—Silas Sandles