Until Debt Do Us Part: Departmental Scholarships eliminated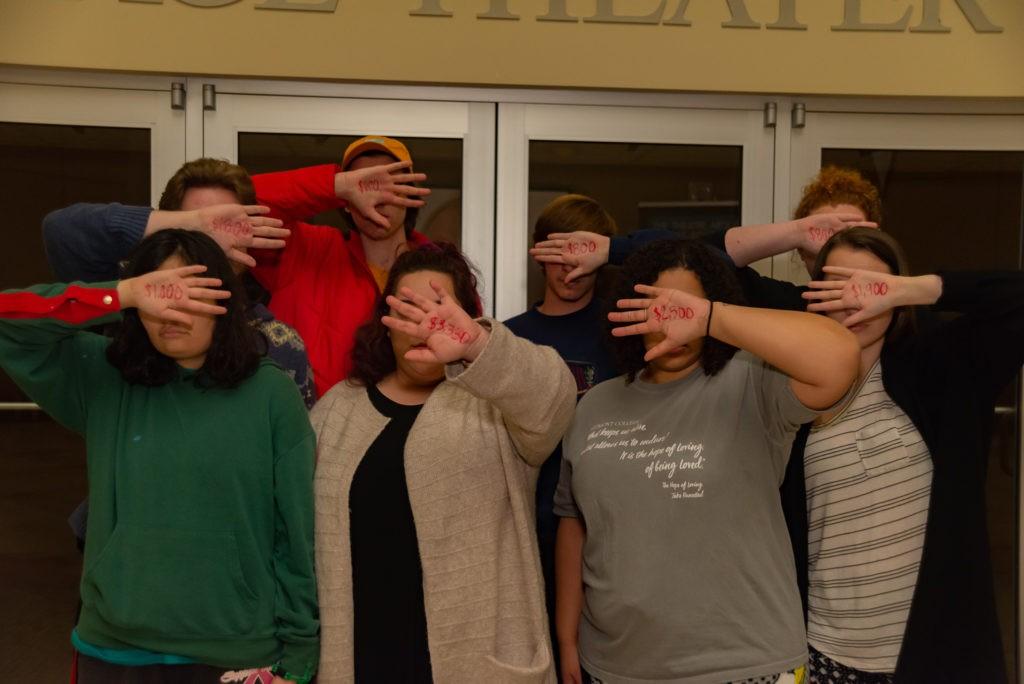 Written by Nate Roys (Publication Chief) & Laura Alyssa Platé (News Editor)
Photo by Sage Shirley
UPDATE: Administration assures scholarships will remain in place.
Piedmont College made the decision to celebrate Ash Wednesday this year by giving up departmental scholarships for Lent. On Tuesday, Feb. 25, an email was sent out by Director of Financial Aid, David McMillion, to certain deans and department chairs at Piedmont College, saying that all departmental scholarships would be cut from the budget for the 2020-21 academic year. This decision affects three of the four schools at Piedmont: Arts & Sciences, the Walker School of Business and the School of Education, seven departments: Art, Humanities, Mathematics & Physics, Mass Communications, Music, Natural Sciences and Theatre, and student life and leadership. 
"During a recent budget discussion, senior administration has decided to reallocate those funds to help better meet the needs of the college and the student body," McMillion stated in the email.
At the end of the email McMillion wrote, "If you have any questions about this change, please feel free to reach out to the Vice President of Finance and Administration, Mr. Brant Wright, or the Vice President of Enrollment Management, Dr. Perry Rettig." 
The Roar reached out to both Mr. Wright and Dr. Rettig, along with Vice President for Academic Affairs, Dr. Dan Silber, and President James F. Mellichamp via email on Wednesday, Feb. 26, at 11:30 a.m., and were made aware of an 11:59 p.m. deadline on the same day for this issue. The email stated, 
"We recently learned about the decision to cut departmental scholarships for the 2020-21 academic year. Several students have voiced concerns about this decision, as we know many rely on departmental scholarships. We are running a story on this decision and have a deadline of 11:59 p.m. this evening before we go to the press. Do you have any comments on the decision that you would like voiced in the article?"
All four failed to respond. Word of this decision spread quickly, and students are extremely concerned.
"I am a student in the Department of Natural Sciences. All who qualify as an 'honors' student receive this scholarship. This scholarship covers supplies for our research and for the time needed to complete research in the name of the institution. Every student in the honors program receives $1454 a year and it is split between two semesters," Senior chemistry major Sean Ogle said. "My parents are farmers and work very hard to give the opportunity to their children to get out of a life of hard work and farming. This scholarship specifically helps me help them, when I cannot be physically there to help them on the farm. This cut will force me to quit my student position to go home and work on weekends because of the costs I will have to return to school every week. Me quitting my job will result in a lack of leadership positions I will be able to keep on campus which ultimately gave me the requisites to earn other scholarships granted to me for being a leader on campus and trying to make a positive impact. While the amount might seem trivial, to me it is more than just the $700 or so a semester. It is the compensation I deserve for the work done within a department, to further the department and the faculty understand that."
Piedmont has recently made budget cuts in the form of graduate assistants. After this semester, there will no longer be a graduate assistant for any department at Piedmont to double down on these budget cuts. In the mass communications department, students on departmental scholarships have taken on the brunt of this loss, in addition to their roles as student leaders in the various student media platforms. 
"All of us on the mass comm Student Leadership Council work our tails off every week for the radio station, newspaper, yearbook and other forms of student media," said junior mass communications major Savannah Richards. "For many of us, the only credit we get is experience and $400 a semester. It might not seem like much, but for students like myself who struggle each semester to pay tuition, it can be the determining factor of whether or not we'll get to finish the education we work so hard for."
Several students depended on this money for the 2020-21 academic year, and now it is being swept right out from underneath them. 
"As a student who has been in the music department for four years, I committed time, effort and my own personal money to the endeavors I have done inside this building," said junior vocal performance major, Calliope Adcox. "As a student who sat in a rotting, mold infested, leaking building with no working bathrooms for nearly two years, I am truly enraged at the fact that the Piedmont administration thinks it is for the best that these scholarships are taken." 
These sentiments were echoed by junior psychology major Sarah Jones. 
"I get scholarships from the music department and it doesn't seem like a lot in the grand scheme, but it basically pays for my textbooks each semester. It would really affect me," said Jones. "I can't go to this school anymore if I lose my music scholarships and probably no one will be in Singers and Chorale too. The music department won't be able to do anything without these scholarships."
Other students from the humanities voiced their frustration with the change as well, going so far as to cite the current student debt crisis as a catalyst for their outrage. 
"In the midst of a student debt crisis of $1.6 trillion, any and all assistance is appreciated," said senior quadruple humanities majors, John Hollis Meyer. "Indeed, at a private college which prides itself for offering assistance to attendees, this news is profoundly disturbing. What is more, a departmental scholarship could mean the difference between graduating a semester earlier rather than later—disturbing plans. It's very difficult to understand why this decision was made. It seems the material conditions of my peers will worsen because of it." 
Another student, in the Department of Mathematics & Physics, who asked not to be named in the article for fear of retribution, echoed Meyer's concerns by saying, "with the rising cost of attending college, most of us are struggling to find the necessary financial means to complete our education here at Piedmont. The departmental scholarship that I receive certainly helps me deal with that problem and stay focused on my education. Taking these scholarships away will disproportionately affect students like me who do have the financial support system, and will most likely make me consider whether the dream of completing college is even attainable."
Piedmont often boasts its financial affordability and has been making active strides to raise the retention rate amongst the undergraduate students which is currently sitting around 67 percent according to College Factual. This decision could directly impact both of those widely publicized concepts. 
"I know for a fact that each and every single member of our 50-person choir is on a departmental scholarship," said Adcox. "In fact, we spend an entire week in the fall semester touring high schools in the state of Georgia to promote the 'amazing' financial availability. This is absolutely a horrible and negative move on Piedmont's behalf and if they truly think they are doing the best for the students maybe they should ask their students how this will affect them and see if they are still very confident in that quote."
Regardless of what the driving force is behind the decision to renege on the departmental scholarships, it is clear the arts will suffer greatly. 
Adcox, who also minors in theatre, went on to explain that, "As a theatre minor, the amount of work that goes into every single one of the shows we put on is intense. We spend hours, give up our weekends, I have seen students just like athletes break their ankles, break their wrists and get concussions from how intense our rehearsals are. Just like student-athletes who dedicate all of their spare time to the field/court we dedicate all of our time to the stage and to the rehearsals. Students around campus from every walk of life are reliant on these scholarships. We need these. I need these."
At the time being, it is unclear as to why the decision was made, however it has raised concerns across every school and department. 
"The social science department scholarship is a huge factor in allowing me to go to Piedmont. This $1,000 yearly scholarship is what pays for my textbooks since I do not get a textbook voucher," said junior psychology major Jena Conley. Conley is currently a departmental scholarship in Social Sciences. 
"It seems the individuals in administration do not understand that just because my parents make enough money for me to not receive much financial aid, does not mean I do not need assistance in getting textbooks. I am a first generation student and I take my education very seriously. I am currently part of the academic top 10 percent of juniors and seniors in the entire school, and I firmly believe that I am able to achieve this because the Social Science department saw my academic efforts, heard of my financial struggles and decided that I was a student that could benefit from the departmental scholarship."
Students feel that President Mellichamp has made it clear to both them and the faculty that the cost of retaining students is worth less than the amount given out in departmental scholarships.
"It is unclear to me why anyone in the executive administration thinks that they would be able to make a genuinely educated decision on which students deserve these scholarships," said Conley. "I do not think any of them even know my name, much less my needs. I want to be hopeful that they have a well-thought-out plan for bettering these scholarships, but I am not. I do not think there is a better way to decide who gets these scholarships other than using the professors who actually interact with the students. What a shame."
Related:

Update: Piedmont Maintains Departmental Scholarships