QEP Committee Roaring to Go as they Gear Up for Symposium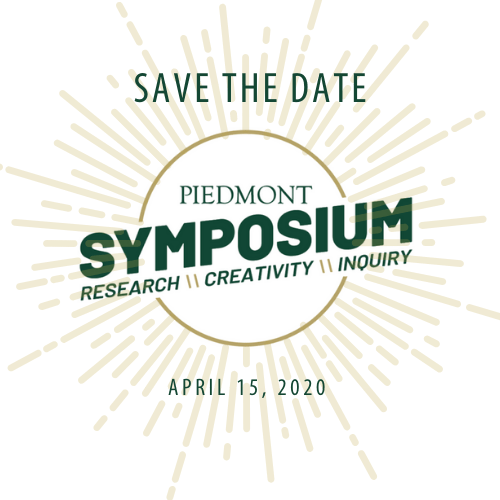 The QEP Committee is roaring to go as they get ready for this year's undergraduate research presentation. 
On April 15 starting at 8:30 a.m., Piedmont College is holding the Symposium, which was previously known as P.R.I.D.E. (Piedmont Research Innovation and Discovery Exhibition). The Symposium is a day where undergraduate students have the opportunity to exhibit their research as well as other projects they have worked on throughout the year. Dr. Julia Schmitz, chair of the Symposium committee, talked to the Roar about what changes the Symposium has undergone in the past year. 
"This year the event will go all day versus just half a day to allow more students to participate both as presenters and as audience learners. Also, last year, the event ended with an open house at the end of the day at the Fabrication Lab," said Schmitz. 
Regardless of what a student is interested in, there are opportunities to learn about different areas of study. 
"This year, we are looking for more opportunities for open houses. Currently, we have plans to also have open houses at the wetlands and the SIMS lab. At the Wetlands, students can learn about the macro-invertebrates in the stream," said Schmitz. "When students go to the 4th floor of Daniel Hall, they will get to see the high fidelity manikin simulation used by the School of Nursing and Health Sciences."
This event takes more than just the Symposium committee for people to attend the Symposium. 
"Like every successful event, it takes a village. The Symposium committee takes on the lead of planning the event, but we have help from other QEP committees. We also use faculty and staff volunteers to assess the presentations and posters as well as give feedback to the students," said Schmitz. "Lastly, we utilize students to help time our sessions, ensure people check in with the QR codes, help direct people and be runners between the rooms and organization office. This event would not be successful without the help of all the volunteers and committees and I am thankful to work with such great people to organize the event." 
The Symposium is a good opportunity for students, but also for Piedmont faculty and staff. 
"The Symposium is important to Piedmont because the faculty and staff do wonderful work with our students, but we don't always get to hear about it. This event allows us to learn more about what our colleagues are doing and potentially start some cross-discipline conversations," said Schmitz.
The Roar took the opportunity to ask Schmitz about what the Symposium means to her, why she believes that this event is a good opportunity for Piedmont students and why she believes that it is important for the Piedmont community.
"Last year, a faculty member shared with me that their student was shy and nervous about presenting, but was so glad that the faculty member encouraged them to present because it made them feel more confident about what they were learning in their major," said Schmitz. That is what the Symposium is about – encouraging a student to come out of their shell and present on the great research they are doing."