Lady Lions end Season with 2-0 loss to Salem in USA South Quarterfinals

After ending their regular season on a two-game winning-streak, and winning their first game in the USA South conference tournament, the Piedmont College women's soccer team was knocked out of the conference tournament in the quarterfinals by Salem College, 2-0.
The team hoped to ride its momentum of two wins in their last three games prior to the tournament, earning the No. 3 seed in the West Division. With a positive end to the regular season, which included hard fought 1-0 wins at Huntington and Bob Jones, the Lady Lions hoped for a deep tournament run.
As torrential downpour rained upon them, the Lady Lions opened USA South tournament play at the Walker Athletic Complex against Wesleyan College, the No. 6 seed out of the West Division. Piedmont battled both the stormy elements and the Wesleyan Wolves to come out with a 2-1 win to advance into the second round of the tournament.
The miserable field conditions didn't slow the Lady Lions' attack, as the team tallied 30 shots, eventually finding the back of the net late in the first half. In the second half, sophomore forward Amanda Weinhart scored a penalty kick, increasing Piedmont's lead to 2-0. Wesleyan struck back in the 83rd minute, but Piedmont remained dominant, concluding with a 2-1 victory.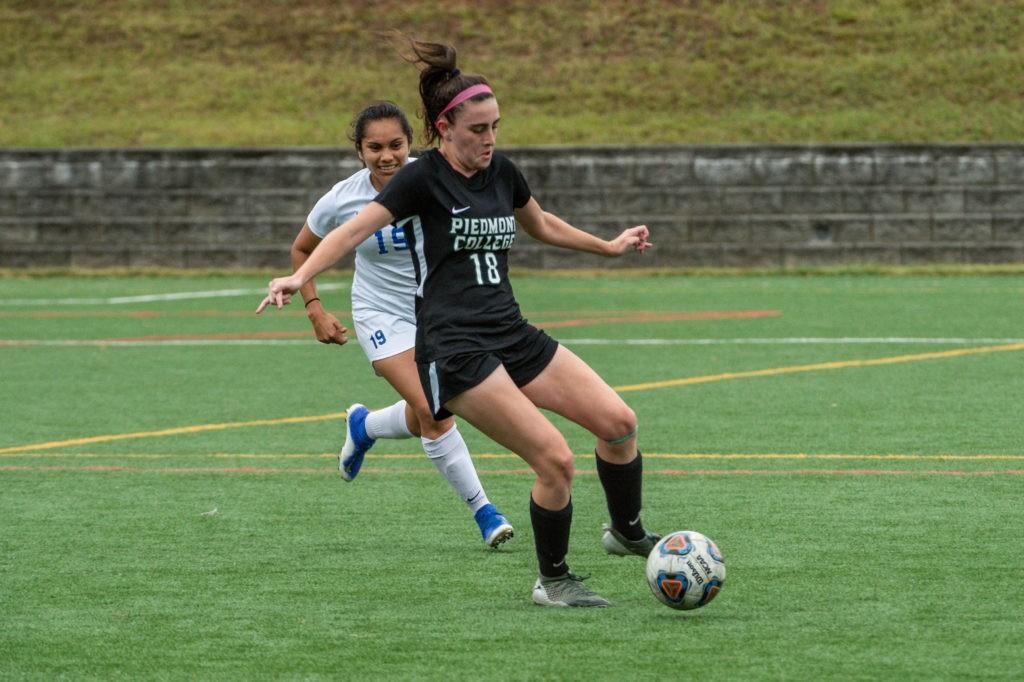 "It was definitely tough playing Wesleyan in the freezing and pouring rain," said sophomore midfielder Gabby Lotter. "However, we had to keep in mind that the conditions were just as difficult for them as they were for us. Remembering that took a lot of pressure off."

Traveling to Salem College for the quarterfinal matchup, the Lady Lions faced a strong No. 2 seed from the East Division. Piedmont gave up an early goal in the 11th minute, with the Spirits taking advantage of a set piece; later in the first half, a second goal was allowed off of an additional set piece.
Although down 2-0 at the half, the Lady Lions remained determined. Piedmont dominated the shot count over Salem in the second half, 19-2, but could not find the back of the net. The team's valiant effort was not enough to advance to the semifinals, concluding their season with a 2-0 loss.

Despite the fact that the season did not end how the Lady Lions wanted, there were still many positive takeaways to pursue for next season.

"This season was full of highs and lows," said Lotter. "It wasn't exactly the way we wanted it to end, but it just makes us hungrier for next season."