Men's Soccer Update

On Oct. 12, the Piedmont College men's soccer team traveled to Cary, North Carolina, for an evenly matched back-and-forth battle against William Peace University. Junior Cameron Earls delivered his first hat trick of the season— and the third of his career—but the Pacers' Ivan Ponce scored three goals himself, including the game-winner, to give William Peace the late victory.


The next day, the Lions were back in action in an on-the-road contest against Greensboro College.

A late goal pushed the men's soccer team to a 1-1 draw at Greensboro on a rainy Sunday afternoon.
After falling behind 1-0 early in the second half, senior Jose Linares volleyed a cross that Earls headed home for the equalizing goal. Sending the game into overtime, the Lions were able to earn a draw in a hard-fought battle in a USA South match.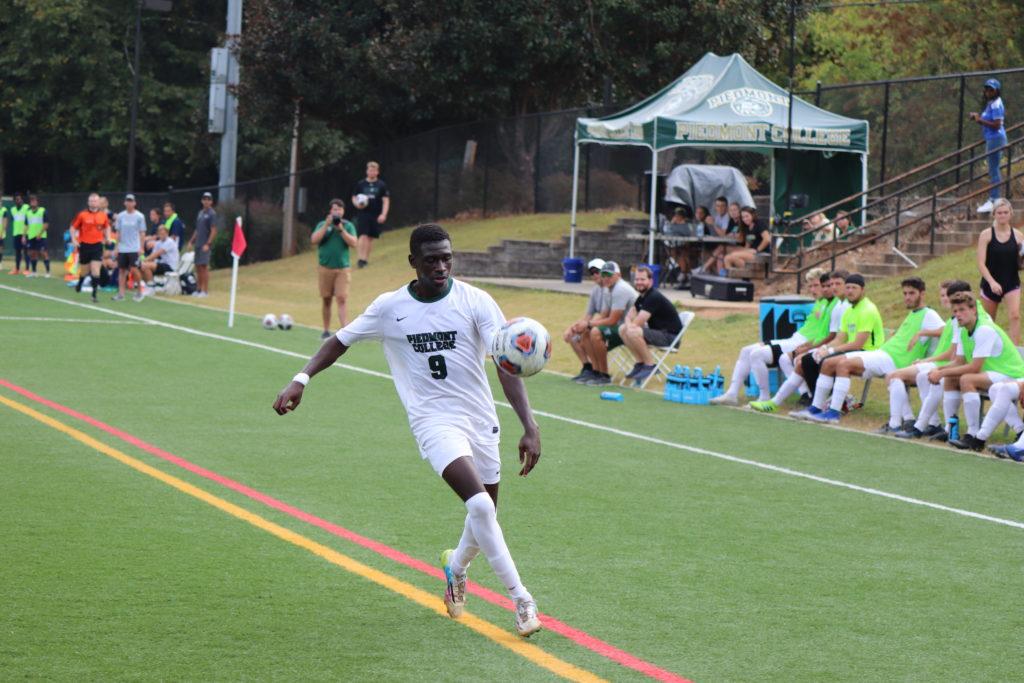 Coming out of the weekend with a loss and a tie, the Lions were ready to face Toccoa Falls for redemption. Rolling past the Screaming Eagles with a 7-0 win on Tuesday night at the Walker Athletic Complex, the Lions scored four times in the first half and added three more in the second, with a number of different players finding the back of the net. Senior Jose Linares and sophomore Ernesto Platas both scored two goals, while senior Colin Owen and Victor Munoz, as well as freshman Malamin Jallow found one goal each.

Remaining at home for the weekend, the Piedmont College men's soccer team faced Mary Baldwin on Oct. 19, following up with Averett University on Oct. 20. The Lions conquered both teams, in an exciting 2-1 game-winner in overtime and a second-half 3-2 rally.

After falling behind 1-0 to Mary Baldwin midway through the second half on a cold and rainy Saturday afternoon, the Lions equalized less than a minute later with a handball in the box. Senior Jose Linares converted the penalty kick to knot the score up to 1-1, leading the Lions into overtime.

In the fifth minute of the first overtime period, Linares drew a foul just outside the box, earning a free kick from a dangerous position. His second free kick of the game found junior Ian Addison, who headed it home for his first goal of the season.

On Sunday afternoon at the Walker Athletic Complex, the Piedmont College men's soccer team trailed 2-0 with 16 minutes remaining against Averett University. Cutting their deficit to a single goal, sophomore Lule Tekilemariam found the back of the net; soon after with under five minutes to play, junior Ian Addison finished on a corner kick, tying the match 2-2. Less than a minute later, freshman Malamin Jallow weaved through the Cougars' defensive line, striking the game-winner for the Lions.

This win gives Piedmont its first three-game winning streak of the season.