Piedmont Track & Field Sweeps USA South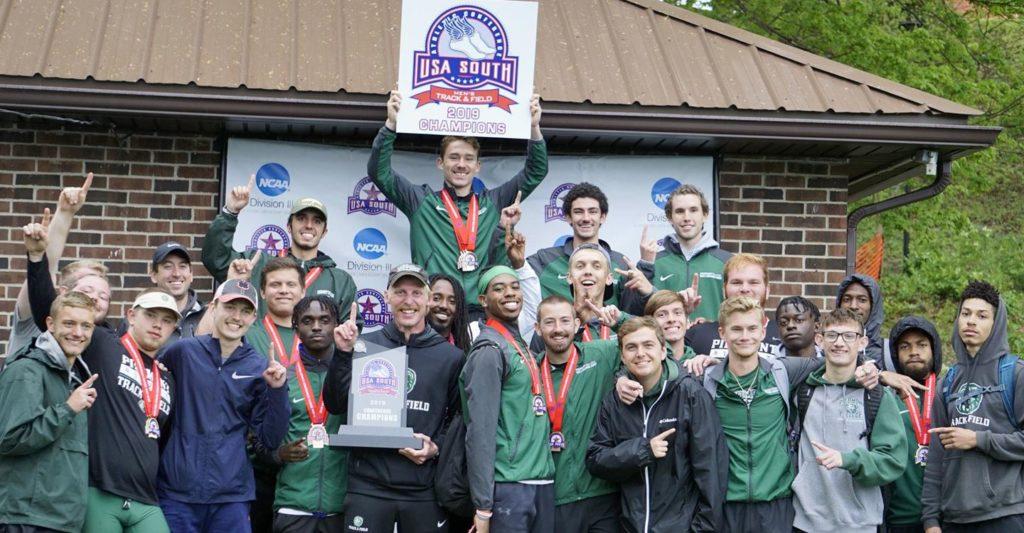 At the USA South Championships, the Piedmont College men's track and field team was able to hang on to their day one lead and claim the USA South Championship Title.
The Lions finished in first place with 170 points, followed by Berea with 144 points in second and Methodist finishing third with 107.

The Lions jumped out to a solid lead in Berea, Kentucky, after day one of the contest. However, that lead began shrinking near the end thanks to the strong distance running team of Berea. The Mountaineers were able to shrink Piedmont's lead to just one lone point after the 5000m race, but it wouldn't stay close. The Lions were able to stretch their lead again after discus throw and secured the championship after the 4x400m relay team of Alvin Jacobs, Justin Wilkes, Darius Smith, and Brodrick Jackson turned in a 3:23.92 time.

The conference championship comes as another success to the relatively new Piedmont track and field program. The win means a lot to the current team, but they also understand the importance that conference championship wins will play down the road for the program as a whole.

"It feels really good to get another win with a program that just started a few years ago," said junior Bryce Griggs. Griggs, a distance runner for the Lions, currently holds six track and field program records at Piedmont. "It's crazy how much progress your team makes in one year and I hope we can continue to grow the program and get more athletes."

Griggs isn't the only current Lion to hold records at Piedmont. The program saw Freshman Justin Wilkes, a sprinter from Rabun County high school, set the new school record of 56.67 in the 400m hurdles. In addition to the record, the Lions also took home wins in four events, the final of those being Sophomore sprinter Anthony Goodloe triple jump win.

The women's track and field team followed after the men, winning the inaugural USA South Championship. The Lady Lions finished first out of the nine schools that competed.

The Piedmont women were led by Gihanni Fernandes, who placed first in the hammer throw, discus throw and shot put. After her three gold medal finishes, Fernandes was named Tournament MVP.

In addition to Fernandes' performance, Piedmont's coach, Jeff Jenkins, was named the USA South women's track and field Coach of the Year. The Lady Lions ran away from the competition, winning the meet by 63 points.

Both teams of Lions will look to defend their outdoor conference crowns next year when they go for a second-consecutive sweep of the USA South.