Yearbook Dazzles with Gatsby-Themed Release Party

Don a freshly steamed pinstripe suit, or slip on a dress with sparkling sequins because the Piedmont Yearbook Staff is hosting an Old Hollywood, Gatsby era themed release party. The party will take place from 4-6 p.m. on Apr. 4th in the Swanson Center, in honor of the 99th edition of The Yonahian.

Piedmont's yearbook is crafted together by a group of student editors, led by head editor Alyssa Emmett. The team is advised by Dr. Melissa Tingle, an assistant professor of mass communications. This is Tingle's first year as a faculty member of Piedmont, and advising the yearbook staff was an early, collaborative effort between students and faculty.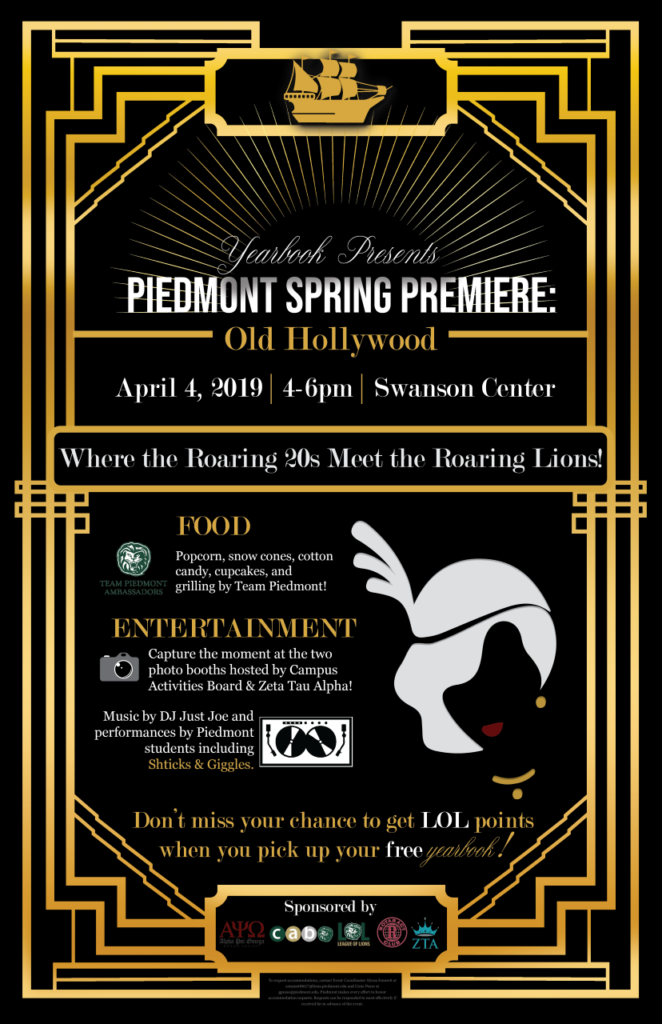 "We began the idea of old Hollywood way back in July, for the theme of the yearbook itself," Tingle said. "As we started to see this whole thing take shape and manifest in the book, we realized that this will be the 99th edition of the yearbook, we need to have a celebration that brings together all students to celebrate campus identity and how that's been captured by the yearbook."

The party will feature activities managed by the organizations sponsoring the event. C.A.B. and Zeta Tau Alpha will host Roaring 1920's photo booths, Dr. Joe Dennis, AKA DJ Just Joe, will provide the music, and Team Piedmont will host a grill out on the front lawn of Swanson. Towards the end of the party, Piedmont's theater based improv troupe Shticks and Giggles will put on an exclusive performance in the Swanson screening room.

Marion Mealor, junior co-president of the improv troupe, has been preparing for the party performance along with her team and hopes that the humor of improv will lift up any spirits brought down by the impending finals season, especially for those who will be seeing the troupe for the first time.

"It requires a whole lot of creativity and not a whole lot of taking ourselves too seriously," Mealor said. "We're a tight knit group that enjoys having a good laugh, and most importantly, wants to share that laughter with others. Our goal with every show is to 'lift em' with laughter' with the hope that everyone who sees us perform leaves feeling a little lighter and brighter."
For more information on the party and where to pick up a yearbook if you are not able to attend, email Dr. Melissa Tingle at [email protected].