Silence is Less than Golden

"Before someone could find something in common with me, they'd have to learn a whole new language. Who wants to learn a new language for a stranger?"
Junior psychology major Minda Yeary's entrance into college was not what many consider the standard procedure. Having become mute only three weeks before move in day, Yeary was left at a loss on how to adapt to college, when she hadn't yet had the time to adapt to being mute.
"College is a different experience anyway, especially because I didn't know anyone," Yeary said. "I came to orientation being able to speak, but the first day of classes I was mute."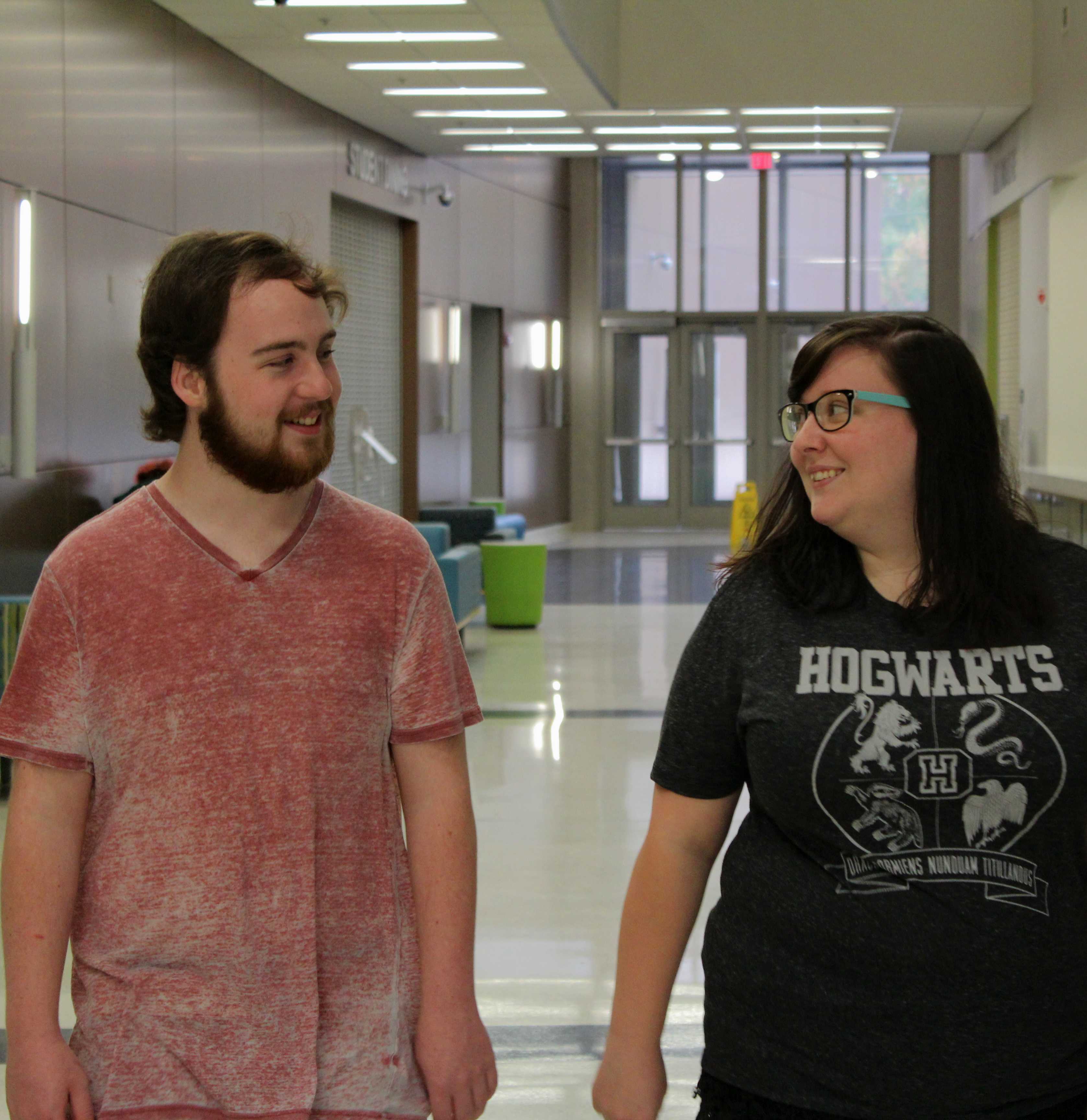 During the summer before her freshman year, Yeary became overheated in the shower and felt dizziness that could be equated to being "hammered out drunk." Yeary's mother discovered she had a heart rate of 120, at which point Yeary became unresponsive. She rushed Yeary to the emergency room, and Yeary couldn't understand anything that was being said to her.
"She had to get me dressed and everything, I couldn't do anything," Yeary said. "It took her ten minutes to get me 100 feet. On the way there, I had almost forgotten what language was. People were asking me questions and I couldn't understand them, but I could still understand tone. I knew everyone was worried, and I knew who my mom was, but I almost couldn't recognize her."
Several tests and a couple of MRIs later, Yeary was able to write full sentences when she returned home the next morning, but stopped speaking altogether. Yeary didn't know how to properly process this turning point in her life, especially when she was about to be thrown into another: college.
"I had no idea what it was going to be like; I had only been mute for three weeks before," Yeary said. "I had to tell my professors something because I hadn't gone through disability services yet. I was writing stuff down and I started to use my notepad on my phone because I could type faster than I could write. I knew ten words of American Sign Language, so I tried signing as much as I could."
Yeary said when she went to disability services for accommodations, they originally did not know how to help her. However, after discussions with Dr. Gene Pease, director of disability services at Piedmont, Yeary found it a little easier to settle into the academics of college.
"I went to accommodations and they asked me what I needed, and I had no idea what I needed, I had only been mute for three weeks," Yeary said. "Gene Pease was really helpful in coming up with what I needed, because as far as I know, Piedmont had never had a mute student because there were no accommodations setup for that."
During Yeary's first year at Piedmont, she was a commuter, so immersing herself into Piedmont's social scene wasn't at the top of her to do list. However, she moved into the dorms for her sophomore year, and found herself struggling to find her place in the college community.
"I didn't dorm here my first semester, so I didn't make any friends," Yeary said. "I was never on campus except for my classes. When I was in class, I didn't talk to people. I would only come to the cafe when I knew people weren't in there, because I was terrified people would want to talk to me. I can't talk back, I couldn't even sign to them with a plate and cup in my hands. How can you tell someone you can't talk, when you can't talk?"
After experiencing an intense panic attack during the summer after her sophomore year, Yeary's mother took her to the emergency room under the impression that she was suicidal. They kept her for two days, and then she was sent to the psychiatric hospital where she was diagnosed with Mitochondrial Gyro Paralytic Myoneuropathy Thompson (MGMT).
MGMT is a very rare neurological condition that has little information online pertaining to it. Yeary claims that she was the thirteenth person diagnosed in the US, and there are only 22 people diagnosed in total. However, any mitochondrial disease can be life threatening, as they affect the bodies ability to convert food into energy. It seemed as if Yeary had found the answer to her problems with this diagnosis.  
"It was causing everything, from my anxiety to my depression," Yeary said. "It affected everything in my life, right down to my asthma."
Four days after starting a new medication, Yeary received a gift that would change the course of her life yet again: her voice. She woke up on the morning of July 13th, 2018  to speak, with the power of her rejuvenated vocal cords. However, her initial reaction wasn't to shout from the rooftops.
"For the first ten seconds, it was the happiest I had ever been, but then I was really sad," Yeary said. "For two years, I convinced myself that being mute was a part of me. Now, a part of me was missing. The first thing people told me when my voice came back was that they were so happy because I got a piece of myself back. But a piece of me wasn't missing. I wasn't broken or less than. And no one got that."
Yeary's 2-year journey of becoming mute and entering college was filled with more lows than highs, but looking back, she wouldn't change a thing about what she went through. Yeary's future is uncertain, as it is for any college student, but she looks forward to having the ability to speak up for those who are unable to.
"I'm glad I can talk, but it was an experience I needed to have because it changed me as a person," Yeary said. "I feel really hopeful for the future, because as someone that has had and still has a disability, I can speak for people like myself. I felt like I couldn't do that before, but now I can fight for people that don't have a voice."