Piedmont Security Report Suggests Shift in Drug Presence On Campus

At the end of September, Piedmont College released their annual security report and since the previous year, the amount of drug related disciplinary actions had almost tripled while the drug related arrests were nonexistent.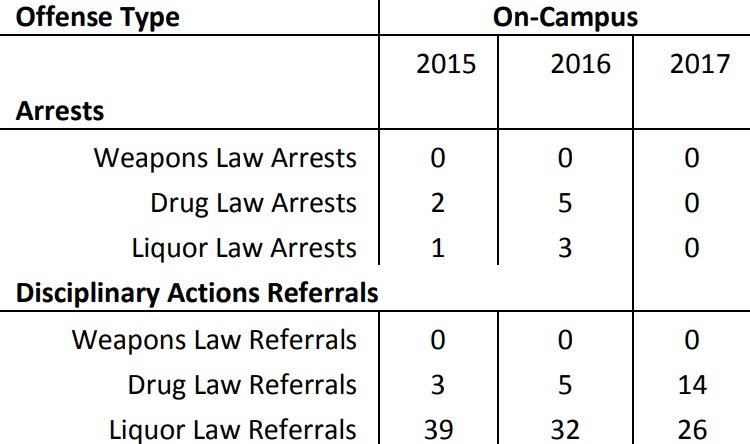 Piedmont College is a dry campus as well as a tobacco-free campus. While students can drink at the upperclassmen Village, there is still a very strict no-tobacco policy. However, it is well known around campus that there is still a number of students who participate in illegal drug activity. According to the annual security report, the number of drug related disciplinary actions went from five to 14 from 2016 to 2017. However, there were zero drug arrests in 2017, whereas in 2016 there were five. Officer Richard Blevins stated that the most common illegal substance found on campus is marijuana. However, campus police has seen an increase in prescription drug abuse on campus over the past year.
At the same time, Habersham County is currently dealing with local effects of the nationwide opioid crisis. There has been a significant rise in opioid related arrests as well as children of incarcerated parents being put in foster care. The county has been raising taxes to support these children as well as fund mental health services and create larger law enforcement. Back in July, Demorest stated that it will be joining other Georgia cities, such as Cleveland and Savannah, to help municipalities file a lawsuit against pharmaceutical opioid companies.
While Piedmont College isn't as big as other colleges, the campus police department deals with the same kind of issues that larger colleges deal with, just on a smaller scale. When compared to crimes on larger college campuses, Piedmont's drug crime rate is very low. Blevins stated that campus police hasn't seen any sign of heroin or methamphetamine abuse, but it could still exist. Campus police tries to work with residence life to help prevent severe drug abuse on the Piedmont campus. "We try to be a positive presence out on the campus and try to educate (students)," said Blevins.