ADOPT, DON'T SHOP.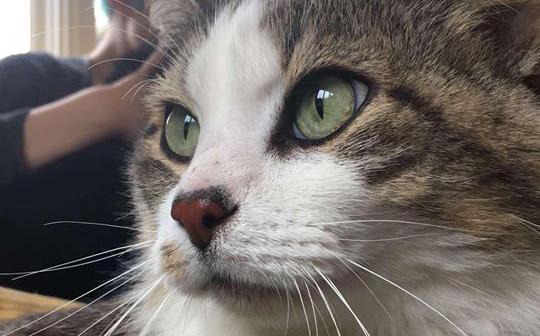 After a long day, the one thing I look forward to is coming home to my pets. Walking through the front door and being greeting by Otis, Holly and Chrissy is by far one of my most favorite things ever. No matter how long I was gone for, they have the same excitement each time I come in. Hearing their paws hit the floor and run to meet me is one sound that will never get old. Ever since I can remember, we have always had at least one dog and one cat in our home. Over time it has grown into three dogs and two cats, most of which have had other families before they found their way into our home.
Both of our cats were rescued, we adopted one from the PetSmart's adoption center, the other we rescued off the side of the road after getting hit by a passing vehicle. Two out of the three dogs we have were also rescues. One was being given away so we took her in, the other was rescued from the side of a highway. Of course, when we found these animals on the side of the road, my family and I hung up signs and we posted photos of them to our local "Pet Rescue" Facebook pages to make sure no one claimed them. After a few days, we took them to get their necessary vaccines, and they have been a part of our family ever since.
In Georgia it is illegal to take and keep or rehome animals that have been found on the side of the road. My family and I took a risk by taking these pets in. This is why pet adoption is the way to go. Most people do not want to adopt pets from shelters because they worry they may not be housetrained, or that they may not be as healthy and as strong as an animal from a breeder would be. This is not the case. Most sheltered animals are housetrained and are much healthier than ones that would be sold by a breeder.
By adopting a pet, a life is saved and they do not cost as much as they would from a breeder. Puppy mills are also an ongoing problem. According to the Humane Society, there are at least 10,000 puppy mills, some of which aren't even licensed. This can lead to over population of pets and inbreeding, which can affect the health of many puppies. Each time someone adopts a pet, a step is taken towards shutting down these mills.
Adoption is one of, if not the best thing to do when searching for a new furry companion. There are a variety of breeds of both cats and dogs available in different age groups, each waiting for their new family. Adopting a pet will make you love them so much more. Each pet has a story behind it even though we will never know what each animal has gone through, it is always good to know that they now have a safe place to live. And as an added bonus, we always have something to look forward to each time we arrive home.