NURSING STUDENTS TRAIN AT FEMA'S CENTER FOR DOMESTIC PREPAREDNESS

As Piedmont's graduating nursing students complete their final week of school and prepare to enter the workforce, they have an edge over almost every other nursing student in the country –  training provided by the Federal Emergency Management Agency.
Last month, senior nursing students from both campuses traveled to Anniston, Alabama for a three-day, two-night training session at FEMA's Center for Domestic Preparedness. Students attended lectures and participated in hands-on training that prepared them for catastrophic events, including those resulting from chemical, biological, radiological, nuclear and explosive (CBRNE)  incidents.
"This is pretty fantastic training, and we are one of, I think, two schools in Georgia that attend this training in Anniston, and we are one of nine out of over 5,000 nursing schools across the country [that attend]," said Assistant Professor of Nursing Karen Greilich. "It sets our graduates apart from others."
"The training at FEMA was great," said Senior nursing student Kevin Restrepo. "I enjoyed the examples the teacher gave . . . They were real events that have happened in the past, so you could picture [the events] in your head."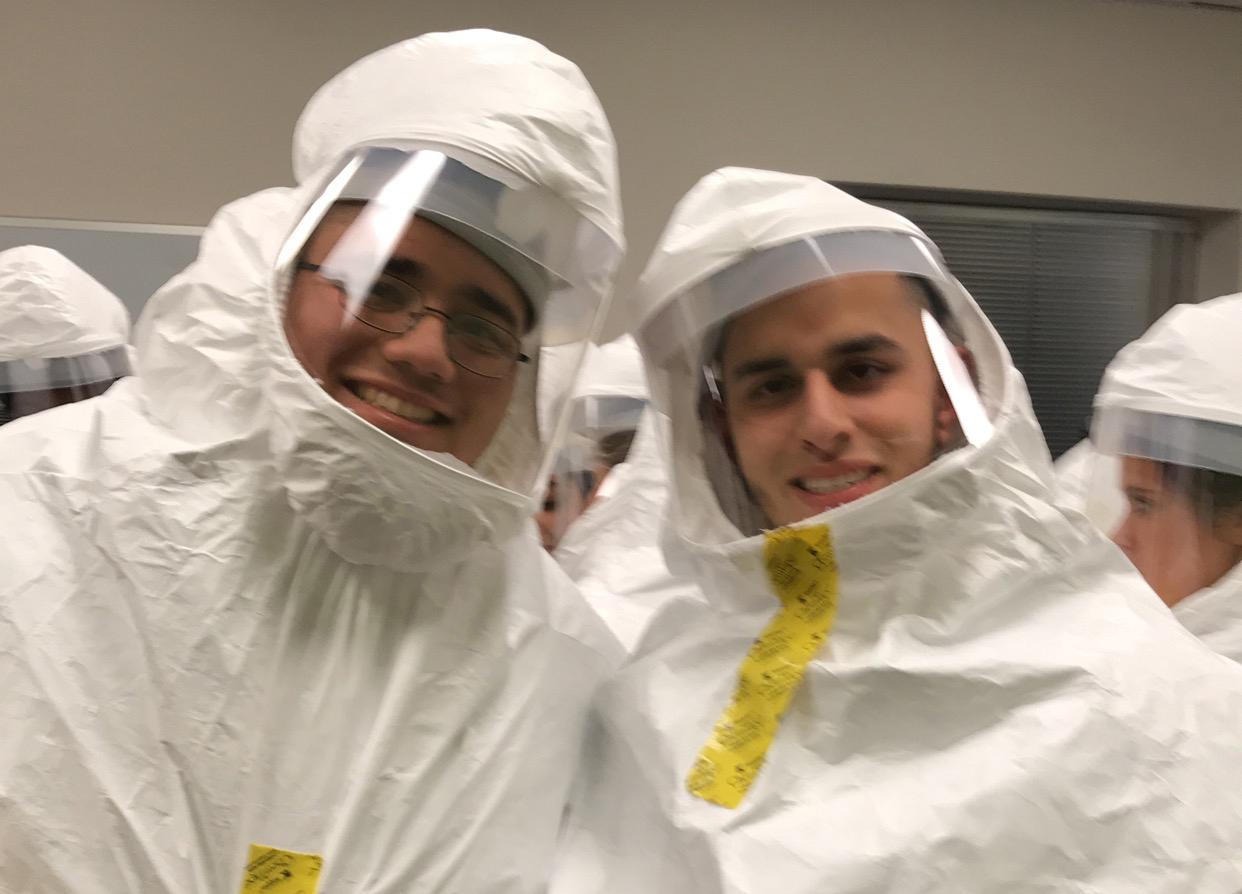 This training can help Piedmont graduates land jobs.
"That's a nice thing for your resume, to say that 'I have FEMA certification,' especially if you're trying to get into an ER someplace," said Nursing Professor Antoinette Willsea. "You have this certification already that is probably above and beyond what half the staff in the building have."
"In the future this could give me an edge over someone else," Restrepo said. "[I] would be considered more experienced because [I was] exposed to learning content that others have not."
Students received certification for completing the "Healthcare Emergency Response Operations for CBRNE Incidents" and the "Emergency Medical Response Awareness for CBRNE Incidents" courses, which focus on recognizing and treating injuries associated with CBRNE events, triage and decontamination.
In addition to classroom learning, the courses provided students with the opportunity to practice providing medical care while donning protective HAZMAT gear, which included a full body suit, a respirator and three layers of gloves.
"Wearing the HAZMAT suit and all the layers was very fun," Restrepo said. "I think all of us were waiting for this moment to come because that was the big event that was talked about."
The impaired tactile dexterity that results from wearing this equipment can make treating victims more difficult, Greilich said.
"They were actually very hard to work in and very hot inside the suit, to the point where I was drenched in sweat," said Restrepo. " I have to say the people that have to work with these suits on have to be very agile and experienced because starting an IV with a suit like this was no joke."
Complications may also arise due to the nature of injuries sustained in CBRNE scenarios. Unlike other scenarios, CBRNE events may result in victims who have no obvious external injuries.
"What someone looks like on the outside does not necessarily tell you what their health condition is internally," Greilich said. "This training helps teach some of that."
After treating simulated victims in the HAZMAT suits, students went through a decontamination process which included being scrubbed with brushes and progressing through hot, warm, and cold decontamination zones.
"Decontamination is incredibly important," said Willsea. "A lot of people don't think about decontamination, but it is really important because you can end up contaminating the whole hospital. Then the hospital would be worthless."
While providing students with the opportunity to work under these unusual circumstances, the nature of the training also helped prepare students to care for victims of natural disasters who take refuge in our area.
"We live close enough to the Gulf Coast that when there's a huge hurricane, we get victims," Willsea said. "People take refuge around here, and being aware of that and being aware of how to take care of these people is extremely valuable."
"In a disaster, no matter what it is, some people are ready to help, and some people run away because they don't know what to do. This helps ease some of those fears, " Greilich said.
"Undergoing this training does make me feel more comfortable," said Restrepo. " I have a little knowledge about many different exposures that could happen."
FEMA instructors were impressed with the knowledge and professionalism of Piedmont students and faculty.
"They were impressed with the students' behavior and their performance, and last year they also asked Dr. Behr and some of out other professors to come teach," Greilich said.
Response from the students has been overwhelmingly supportive.
"My favorite part of the trip was getting extra knowledge about catastrophic events and what to watch out for, wearing the HAZMAT suits, and getting to know my classmates and Athens campus students more," said Restrepo. "I am very happy that I had the opportunity to go to FEMA."
"They always come back exceedingly excited about what they've learned," said Willsea. "It's something they'll remember for the rest of their lives."