FORGETTING THE BOOGEYMAN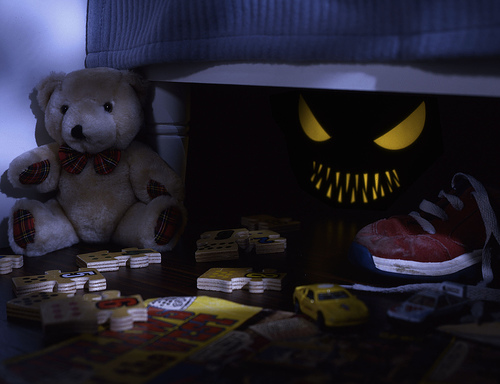 Do you ever find yourself shaken awake by the heavy breathing under your bed at night? Do you ever see the thing that sits just outside your direct line of vision; the blob that you always excuse as an error in your vision that has deep, oozing pits for eyes. Do these things keep you awake, do these images haunt your dreams? Fear not, readers. We here at the Roar have just the solution to this common problem: forgetting!
While this task may seem impossible, it really isn't. Just think back to all your childhood memories of the Boogeyman looming over your bed and bearing his rows and rows of huge, pointed teeth. You can't? See, you're already so good at forgetting!
The Piedmont College Dean's Office has asked us to include the following quote regarding the Boogeyman: "The Boogeyman is not real. If you have ever seen the Boogeyman, or you think you have seen the Boogeyman, please wait in the pit at Demorest park on Friday at 3:27 AM."
We are so lucky to have such caring staff here at Piedmont who are excited to read our articles, sometimes we even get feedback on them while we're still typing the draft.
If you're still having a hard time forgetting the night creatures, there are of course other supplements. We've partnered with the CVS pharmacy in Cornelia to offer a special discount to Piedmont students on Forgetting Products. These range from gummies, syrups, pills, and even a juice. Not one for taking anything by mouth? Not to worry, one of the skilled technicians at CVS can administer any Forgetting Product to you by new forehead-beam technology. This new technology was recently approved by the shaky hand of the FDA, their chairman Dr. Scott Gottlieb saying: "Don't worry, it doesn't hurt as long as you hold still. Very still."
Remember, the more things you forget that you don't want to remember, the more room there is for you to remember what you want to remember. More to come on this as it develops. As always, don't go into Nielsen Hall, and go Lions!
This article is part of The Roar's 2018 April Fools series.