DR. PARKER – PIEDMONT'S MOST LOVABLE PROFESSOR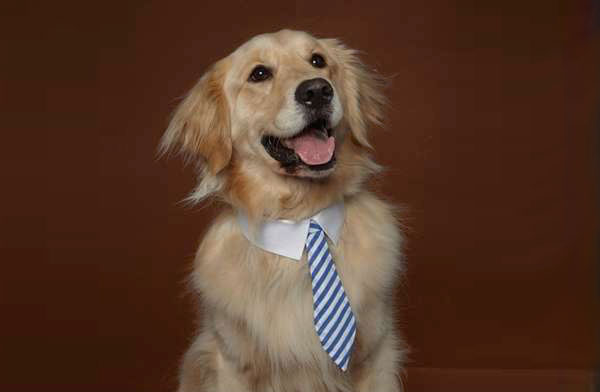 Piedmont's loveable emotional support puppy, Dr. Parker, has recently become all the talk at Piedmont. After he completed his PhD in only two semesters, his genius work has made him not only Piedmont's best Psychology professor and department chair, but an incredibly influential part of the counseling department.
After being given tenure along with department chair only weeks ago, Parker has moved on to hosting one-on-one sessions. "He's incredible." Says one student, who prefers to remain anonymous. "He really knows how to get into your head and help you understand how to help yourself. When I get upset, he's immediately licking my face. It makes me feel so much better, you know? I get that it wouldn't be professional for a human, but he's a dog. And though he tries his best to fit in with the other professors, we love him for what, or better yet, who he is."
Parker's stately heavy-rimmed glasses and striped ties really make him look the part, and his coffee bowl is absolutely adorable. Students all seem to agree that having such an approachable professor who is so excited to see his students that he occasionally urinates is great for attendance. Students feel valued, and Parker is living his best life.
When I went to interview Dr. Parker, he looked stunning in a herringbone sweater vest and his signature glasses. I began my interview, but he was more interested in taking it outside so that he could chase some squirrels. He has some truly enlightening thoughts on how we should change the typical office environment.
I again tried to interview him, but his cute little nose nudged my hand to be pet, and I couldn't say no! I think his body language and general demeanor say more than words ever could: He cares about Piedmont and its students, and no matter what he takes on next, we know his heart isn't in it for money, fame or power. Dr. Parker is in it for the belly scratches.
This article is part of The Roar's 2018 April Fools series.