LIONS WIN THIRD CONSECUTIVE GAME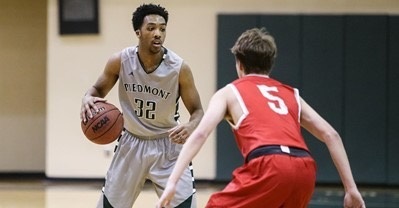 The Piedmont College Lions basketball team found themselves winning their third conference game in a row on February 3 against Greensboro College. The final score was 74 to 68. The Lions' hot start from downtown led them to drain 11 3's for the night
The Piedmont team came out on top after sinking some early shots from behind the arc by Taylor Mills, who led all scores for the game with 16 points. After some key stops in the final minutes of the first half, they were able to go in the locker room with a 10-point lead.
Mills once again had the hot hand in the start of the second half, draining back-to-back shots from downtown in a span of 40 seconds, giving the lions a 41 to 27 lead of the Pride.
"My teammates did a good job of finding me when I was open from the perimeter," Mills said. "We were against a team that just likes to score and not play defense, so we knew if we came out with energy on the defensive end we would have a good chance at beating them."
The pride made an 11 to 4 run of their own in the final minutes to cut the lead down to just three with less than a minute remaining in the game, but turned the ball over when they had the chance to tie the game.
Cole Husky hit clutch free throws down the stretch for the lions to seal the deal and hold the second-place slot in the West Division.