SOCCER PLAYER ADJUSTS TO PIEDMONT LIFE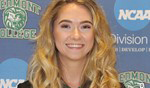 Freshman Soccer player, Abby Cox, has found her niche here at Piedmont College on and off the field.  
Hailing from Williamson, a town in Pike County, Georgia, Abby is no stranger to the small town life Piedmont brings with it.  
Of course, in-between class and soccer, she has little time to explore.  
Abby is a Mass Communications major and enjoys writing during any spare moment she has. 
In fact, she said she is "usually writing for fun" when she is not on the field playing Left Defender.  
Cox hopes to use her degree in Mass Communications to become a public relations or media director so that she can use her skills in journalism.  
The girls on the soccer team, who act as one big family, have made the transition to college easier for Cox. 
"The transition from high school to college has not been too rough, just super busy. I literally do not have time to do anything besides go to class, play soccer, eat, and do homework—but I would not trade it for the world," says Cox.  
Cox said that she is excited to be a part of a team that works hard on the field and that has such an awesome relationship off the field."  
Before coming to college Abby was already really good friends with her roommate, but she has made many friends since arriving here in August.  
"I've met so many new people that have become my best friends and they are people that I will continue to be friends with for the rest of my life. Plus, having a chance to play soccer with my best friends is something I could never pass up."  
During her high school career, Abby and her fellow Pike County Pirates went 11-5-1 in her senior season and were the region champions.  
With 9 goals, 6 assists, and 24 points in the senior season, Abby played above the national average throughout high school.  
Abby is not only a talented soccer player though, she is also a gifted artist and designed the logo for the Pike County Christian Ministerial Association in her senior year.  
Cox most certainly has a bright future ahead of her both on and off the field here at PC and beyond.