PIEDMONT'S ADOPT A FAMILY PROGRAM

The Piedmont College Campus Ministry has once again invited students, faculty and staff to participate in its annual Adopt a Family program, collecting gifts for local needy parents to wrap and give to their children this holiday season.  
The program started as a collaboration between then Campus Minister Anne Cleere and Christina Davis, both board members of Prevent Child Abuse Habersham.
They began with just 5 families, asking Piedmont faculty and staff to donate gifts for the families' children at Christmas.
When Campus Minister Timothy Garvin-Leighton took over from Minister Ashley Cleere, Davis asked if he would like to keep the program going.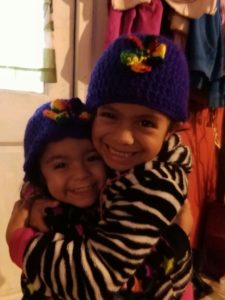 "Last fall, Christina came to us and asked if we wanted to continue to do the Adopt a Child Family program that the campus ministry had done for four or five years," Garvin-Leighton said. "We said of course!" 
But, Garvin-Leighton said, he and Davis and their student ministry fellows decided they wanted the donation to include a wider audience on campus.  
"Up until last year it had mostly been just a few staff members and faculty members that had adopted children and families," Garvin-Leighton said. "Last year we included residence halls, student groups, and we reached out to a broader number of faculty and staff." 
The response from students was overwhelming. 
"When all was said and done we had 18 sponsors between students, faculty and staff," Garvin-Leighton said. "Those are the named persons.  
Behind them were a lot of other folks. A whole residence hall floor adopted a family." 
They provided gifts for 41 children and 14 families, the most Piedmont College had ever been able to help in the past. Now in its eighth year, the program promises to be bigger than ever. 
"This year we reached out to all the folks who were sponsors last year," Garvin-Leighton said. "We also reached out to the Fellowship of Christian Athletes, and they are going to partner with us." 
Each family submits a wish list for each of its children, along with a photograph of each child. The parents can submit requests for things they need, as well. 
"The interesting thing is that even though these parents are economically disadvantaged, most of them don't ask for things for themselves," Garvin-Leighton said. "We try to make sure we get them a gift as well." 
A lot of the families don't have proper winter clothing, so mittens, scarves, hats, or a winter jacket is appropriate.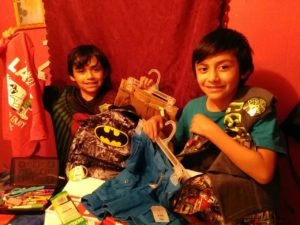 "Kids always want some fun thing at Christmas time," Garvin-Leighton said. "We try to make sure we have some practical things as well." 
For families with infants, diapers and formula are always a help because those are expensive and hard for struggling parents to factor into their budgets. 
"It is a wonderful opportunity to reach out to the community beyond Piedmont," Garvin-Leighton said. "For our faculty, staff and students to give to those in our community who don't have as much financial resources as most of us do here at Piedmont."