CAMMIE BAGLEY News Editor
Consider a list of five female college students. Now consider this: at least one of them will be sexually assaulted during their time in college, according to the National Sexual Violence Resource Center.
"College campuses are the perfect storm for sexual assault because you're around people you don't know and you have the opportunity to drink and do drugs with strangers, and sometimes that goes hand in hand with sexual assault," said Sally Sheppard, Executive Director of The Cottage, a sexual assault and child advocacy center located in Athens, Georgia.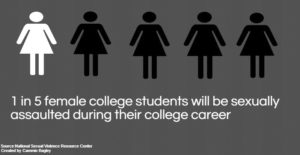 Sexual assault on college campuses has been a growing issue for many years now. There have been studies done, laws passed and documentaries made that reflect on this problem. However, it doesn't seem to have stopped. According to a 2014 study done by the Association of American Universities, 23 percent of female undergraduate students reported that they had experienced some form of unwelcomed sexual contact, ranging from kissing all the way to rape.
The issue of campus sexual assaults isn't one of serial rapists. Sheppard said that in college, rapists are usually people that the victim knows or has met; maybe they've studied together or have mutual friends. She also explained that while a female may agree to go home with someone or even have had a sexual encounter with that person in the past, if there is no consent, it's considered rape. And, no one can legally give consent when they are intoxicated.
Out of 150 adults that The Cottage assisted in 2015, Sheppard said that 30 percent of them were students. She said that 95 percent of rapes are acquaintance rapes and that 99 percent of the assaults that her organization handles involve alcohol.
At many college campuses, victims don't report their assault due to fear of judgement or shame. According to the National Sexual Violence Resource Center, 90 percent of campus sexual assaults go unreported. This could be in large part due to the culture of blaming the victims once it is reported and the institutions doing nothing to punish the perpetrators.
In the CNN Film, "The Hunting Ground," it was reported that several major colleges and universities across the nation didn't suspend, expel or punish perpetrators that had been found guilty of sexual assault. For example, at Harvard University there were 135 reported sexual assaults between 2009 and 2013, with only 10 reported suspensions. Or, at the University of North Carolina where there were 136 reported sexual assaults between 2001 and 2013, with zero expulsions.
Due to the federal Jeanne Clery Act, colleges are required to disclose information about crime on their campuses. This is yet another reason why some institutions don't want victims reporting these assaults, so that they aren't required to release the information, according to the documentary.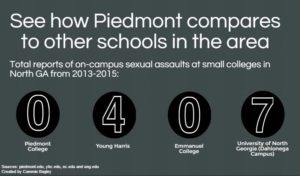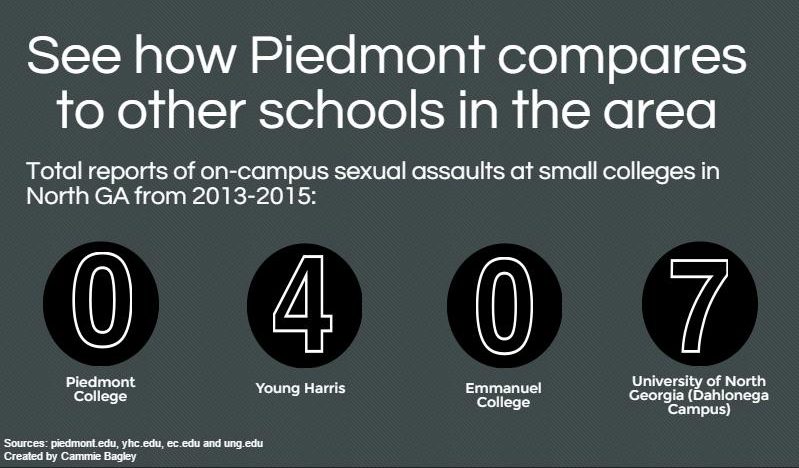 While this is a rampant issue on college campuses all over the U.S., Piedmont College has had no reported sexual assault cases in the last three years, which is the amount of time that is made available in the campus safety and security statistics, found at piedmont.edu.
Many students said that they feel comfortable on Piedmont's campus and have never experienced any sexual threats during their time here.
"I feel very safe at Piedmont," said senior criminal justice major Libby Scoggins. "I think that generally people here respect one another's space and I've never heard of anyone being sexually assaulted or even coming close to it."
Although this issue hasn't occurred at Piedmont, there are still policies and prevention methods put into place.
Title XI Coordinator Margie Means said that the college makes sure that there are resources available for anyone who may experience any type of sexual assault. Those resources range from medical help to the victim's comfort on campus, but it is part of her job to help train and prevent this from happening at Piedmont.
"I am very proud that we haven't had to go through some of the same things that other campuses have," said Means. "But we want to continue improving our training and communication to provide resources for students and to keep the campus safe, and I believe that prevention is important."
Part of that prevention includes requiring faculty, staff and freshmen to complete web-based training called Everfi Haven. Everfi provides information that educates students about consent and ways to reduce the risks of sexual violence.
Faculty and staff do this annually and all freshmen must complete Everfi, along with attending a one-hour presentation on preventing interpersonal violence that is co-presented with Rape Response, an advocacy center that is partnered with Piedmont College. They provide a 24/7 crisis line which can be reached at (800) 721-1999, medical and legal accompaniment, referrals and medical aftercare for victims of sexual assault. They also work with residential living, participating in RA and RD training.
If a Piedmont student is sexually assaulted, it is up to the student whether or not they want to report it. If they choose to confide in an RA, a professor or administrator, the Piedmont faculty will be obligated to report the incident.
If this occurs, the reporter fills out a formal report form, which gets sent to campus police. From there, the college will do everything they can to help make the victim as comfortable as possible on campus. Those things may include changing his or her schedule, or even which resident hall he or she is living in. However, those modifications must be equitable for both the victim and the perpetrator until the investigation is complete, according to Means.
If the victim wants to follow through with an investigation into the assault, there would be an institutional investigation conducted by an outside resource, which would be appointed by the president.
On the contrary, if the victim chooses to not report the incident and wants to confidentially confide in a Piedmont faculty or staff, they can visit the Piedmont Counselor Evonne Jones or Campus Minister Tim Garvin-Leighton.
Sexual assault cannot be fully prevented, but students can reduce their risks of becoming a victim, according to Sheppard. She said that one important way to do that is to remove any grey area of sex. For example, one should be obvious and blatant about what they want to do so that the other party won't have room to question what is or isn't OK.
Other obvious ways to reduce risks are to stay in groups, watch drinks while at a bar and be cautious about who one chooses to go home with. But, regardless of any decision one makes, sexual assault is never the victim's fault.
A senior Piedmont student said that while she generally feels safe around campus, there was an incident in which she questioned what the outcome would be. She wished to stay anonymous due to the nature of her situation.
"There was a time where I was with a guy and he was very adamant about coming to my room and was then very aggressive once he got there," she said. "There was a short moment where I thought I had lost power and felt a little scared, but then I took back control of the situation. Alcohol was involved and I believe that plays a huge role in sexual assault. So while I've never been sexually assaulted at Piedmont, it can happen anywhere and to anyone."
In comparison to many other colleges and universities, Piedmont has been able to maintain a safe environment for its students. However, if a student ever feels sexually threatened or has been sexually assaulted on campus, he or she should report the incident in order to keep themselves and others safe.
With increasing media coverage on this issue and the training and prevention methods put into place at Piedmont and other colleges, this problem is in the spotlight.
"I think that it's fantastic that the word about rape and consent is getting talked about," said Sheppard. "But I think that our society needs to have a broader conversation about rape culture, because rape is stemmed from someone making another human into an object, rather than seeing them as a person. We have got to redefine what respect really means to make this stop."