Piedmont Alumni: 50th Year Reunion
MATTIE KEATON Contributing Writer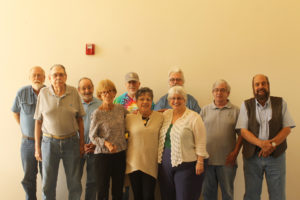 50 years ago on the Piedmont College Demorest Campus sat only seven buildings, a lake, along with boats and water skis and even cows.
Besides the cafeteria, the only places to eat were Fred's Tavern, Dairy Queen and one other restaurant. Also, freshmen could not have cars on campus and the rules were much more strict. On Saturday, Sept. 24, 2016, a group of Piedmont alumni gathered to celebrate 50 years since they graduated.
Reminiscing on old times by sharing stories and memories with one another revealed how different Piedmont College was.
"Every Wednesday we attended Chapel and every Sunday we attended Vespers Services," said Chuck Young, an alumni and sociology major. "If we didn't not attend we lost quality points."
Quality points were once a requirement in order to graduate from Piedmont. Each year was started with a certain number and they are only lost, not earned. The points got taken away by a multitude of things like men not wearing socks or having facial hair and girls not wearing appropriate skirts and dresses. If any of those were broken, the chance to graduate was taken away until next semester.
"On Friday nights we (girls) could stay out until 12 p.m. on Saturday nights and we had to be in by a quarter until 12," said Evelyn Smith, a Piedmont alumni and psychology and sociology double major. "We went to dinner, then had to head back to the rooms for study hours from 7 p.m. until 9 p.m."
Along with these rules, the girls had room checks everyday. There was a sign-in/out sheet in the lobby of Getman-Babcock that had to be filled out upon entering and leaving the dorm.
These rules did not apply for the guys living on campus. The only rule that was the same between both was the alcohol policy. If any alcohol was found in the rooms, the student was expelled.
"Basketball, cheerleading, golf and baseball were the only sports on campus," they all agreed. The cheerleader's skirts were down to their knees and the basketball team all wore converse tennis shows. Converse released and ad in Sports Illustrated stating that Piedmont College was the first team to ever lose one hundred consecutive games in a row wearing their tennis shoes. All of the alumni come back to Piedmont at least one a year.
"We all blended together, we became friends instantaneously," said Marcia Baskin, a Piedmont alumni and sociology double major. "This was our home."