Fall Fashion Preview
KENYA CHANEY Staff Writer
RIKI KUJANPAA Photographer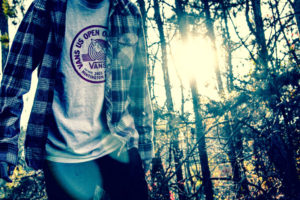 With the colder weather kicking in soon, here's a quick break down on a few fashion trends and staples you should have in your closet in the upcoming seasons of fall and winter.
1. The Flannel: It's time to bring out your flannels. Not only do they provide that laid back vibe, the 90s grunge staple brings out boyish charm. If it gets hot, take it off and tie it on your waist for that instant "it" factor. Pair them with your favorite sneakers, boots, or Doctor Martins.
2. The Bomber Jacket: The Bomber Jacket has made quite a comeback in the summer months, being made of lighter materials. Patterns of solids to patchwork entail that there are many designs to choose from. They range in different material such as satin, suede and leather. For the colder months grab one with a heavier material to keep you nice and warm.
3. The Cable Knit: Cable knit sweaters are my all time favorite go-to for the fall and winter seasons. You can dress them up or down by just changing your shoes. I tend to reach for neutral colors that aren't too flashy. These are a must-have in the colder months.
4. The Parka: Parka jackets aren't going anywhere. They've become a staple within the past two years. My choice of color is olive green, but switch it up and try burgundy or mustard.
5. The Blanket Scarf: Blanket scarves began to thrive last fall and winter. The large scarves are big enough to be used as a blanket and offer the extra warmth and style needed to survive the colder months while being comfortable, plus they can be found at almost any clothing store.
6. Metallic: This is more for the adventurous shoppers. Metallic jackets, shoes or anything are sure to be a trend this fall. With fall being a rather muted season, metallics go the extra mile in making you stand out and giving a trendy look. If you're scared of wearing metallics, start small with accessories and work your way up.
7. The Leather Jacket: This is an obvious staple. The leather jacket should be a staple in every woman or man's closet. It gives you the option of staying warm while it gets cooler in the mornings or evenings. If it's any colder, layer up underneath and throw one on for an instant cool factor.
8. Think Pink: Pink was seen on the runway of last year's preview to fall fashion. Don't think hot pink. Think darker tones of pink. My personal favorite is dusty rose. Darker pinks create a softer, more mature, and more romantic appearance. Too bright of pink and you might end up looking younger than you'd like.
9. Turtlenecks: In the past, Turtlenecks haven't always sounded exactly sexy, but they can be. Just find one that fits you just right in a trendy color or pattern. The turtleneck makes sure your neck stays warm without the hassle of having to grab a scarf on your way out the door. They also make great layering pieces.
10. Pumpkin: Not only is your beloved pumpkin flavored coffee coming back in fall, but so is the color on the runway. Personally, I'm not much of a fan of pumpkin (the taste nor color). But the muted orange color is making its way into fall seasoned nail polishes, makeup, and clothes.