Meet Piedmont's Newest Residential Director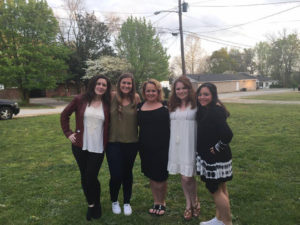 TATIANA BURKETT Contributing Writer
Piedmont has had the great pleasure of welcoming a new resident director to the residential living community.
Miss Sloane Day is 21-years-old and hales from Winder, Georgia. She serves as the RD for the buildings of Swanson, Johnson and Wallace. Many students know Day from her work as a residential assistant in the Getman-Babcock residential hall.
Day discussed some specifics about becoming an RD and how it varies from her former RA position. When asked about the desire to become an RD she said, "I really enjoyed working with residential living in my undergrad at Piedmont. It helped me decide what I wanted to do for my future career goals. Then when it came to graduate schools and deciding where to go, I knew I wasn't ready to leave Piedmont just yet. Also there was an opening RD position so I just applied and hoped for the best!"
Day described the application process for the RD position as, "a learning experience in a good way! Going through the application process showed me how many people/departments are involved in Residential Living." Many of Day's residents could fill a book with all of the positive qualities that she brings to the table.
She was asked to reflect on her own qualities and said, "I feel like bring overall positivity to the group. I like to think of myself as a very positive person and I like passing that onto others. I also feel like I bring the social butterfly effect to the table as well because I love to talk."
Though Day has experience in residential living she described the switch from RA to RD as, "Being an RD is a lot different from being an RA. Being an RA, you interact with the residents everyday on your hall. Being an RD, you are on the more administrative part where you fill out more paperwork. You also make sure all the buildings and residents, as well as the RAs overall health and safety are in consideration. You go from having only 30 residents to an estimate of over 100."
Not only is Day dealing with the transition from RA to RD but she describes transitioning to a graduate student. "It is a transition from undergrad to Grad and RA to RD. But I have plenty of supporters that are helping me transition and I have great mentors to help guide me as well," she said.
Day has only ever lived in GB, but said that she enjoys living in Wallace.
"I love my Wallace suite! I wouldn't have it any other way! I am in the central location of everything and I'm still on the hall with the residents. I kind of do miss all the GB storage though," she said.
When asked what she was excited for with residential living she said, "I'm excited to see all the connections that the residents are building and will continue to build. I love how everyone is interacting with one another and attending programs across campus. I'm looking forward to more attendance and amazing programs the RAs will put on."
Day has had a positive impact on the lives of so many students as an RA and will hopefully be able to impact so many more as an RD. When asked about her future she said, "I really enjoy working in residential living and hope one day to become a Dean of Students on a small college campus."