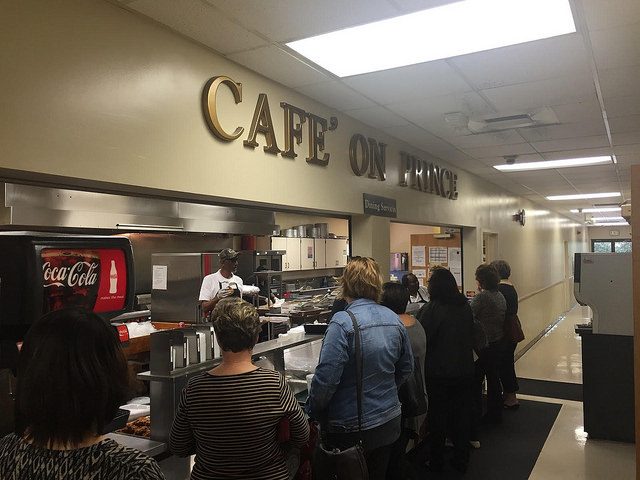 JANIE HARRIS
Contributing Editor
In February, President James Mellichamp announced in an email that the Athens campus's on-campus dining, Café on Prince, will be closing at the end of this semester.
"The Café on Prince has been underutilized for a number of years," said Mellichamp. "With commuter students, it seems they prefer to visit restaurants as they drive to/from campus."
Café on Prince allows students and community members to have the option to dine on made-to-order meals or in a buffet-like setting on southern, home-cooked style food.
"My absolute favorite is their choice of deserts, like cake, pie or banana pudding," said Athens campus student Maggie Adams. "It really reminds me of eating lunch at my granny's house."
Adams said she doesn't really understand why Piedmont is closing Café on Prince, saying that she sees locals and students eating there at all times of the day.
Patty Bidinger, an employee of Athens-Clarke County and an Athens community member, often meets with her friends and coworkers to eat at Café on Prince.
"It's a great place to come. It is reasonably priced for what you get," said Bidinger. "I don't think there are lots of other places that compare."
Adams explained that walking to downtown Athens to purchase food each day becomes expensive, and she said that because she lives a little father from campus, it is difficult to run home to grab food.
"I think it is a little unfair that we aren't going to get that option of eating on campus," said Adams.
Still, Piedmont Alumnus Barbra Sheats, who graduated from Piedmont in 2003 with a master's in business administration, said that during her time on the Athens campus, on-campus dining was not an option. She said that having the option of dining on campus is a nice addition that she wishes she would have had.
"I think this is a good thing for Piedmont," said Sheats. "It is good exposure for the school, so I'm sad to see it go"
However, Athens campus student Christopher Kelly said that he usually only sees people from outside of the school dining in the café.
"I rarely see students eat the food provided there since downtown Athens is just a five minute walk," said Kelly.
Kelly said that he believes the space would be better used as a space to make the campus more inviting. However, Mellichamp said that the school plans to renovate the space over the summer to be used for academic purposes.
"It is a little disappointing that they are doing away with the café, especially since they aren't replacing it with another place for students and staff to eat," said Adams.