Eight Tips for Saving Money in College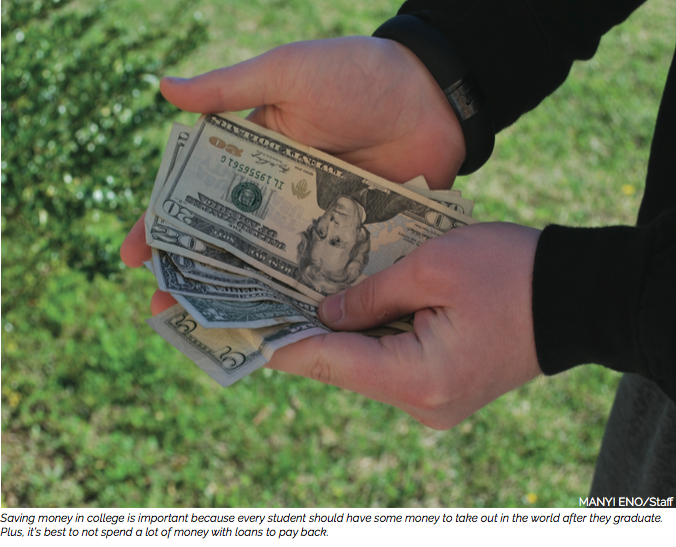 MANYI ENO
Radio Station Manager
In the last issue, we talked about the consequences students can face if they don't pay back their loans in time.
Now, let's take a look at some ways students can better save money while in college.
There are numerous ways students can make some extra cash while in college, like picking up a work-study job on campus, finding out what local stores and restaurants are hiring for some extra help and even freelancing to a magazine.
But, it's not exactly about making the money: its about saving it. Here are ten ways college students can save better.
1. Budget
This cannot be said enough. It's one thing to have a job and make some pocket change, but you can't blow it every weekend. Create a budget to better manage how much money you should spend every week or every month.
That way, when you want to have a great night out with your friends or have an awesome spring break, you can with the money you saved.
2. Check for the Best Prices for Books 
First off, always check with your professor to make sure you need the book, then check out online book sites like Amazon, Chegg, BookRenter and more to compare prices.
You can also sell your books back to some of these sites better than you can if you try at the campus bookstore.
3. Pay Bills on Time
There is nothing like getting hit with an extra fee for not paying a bill on time. Avoid late fees by at least paying something towards your bill to stop being charged extra for being late.
4. Take Advantage of Free Stuff
Starbucks for example gives free refills. If you just cannot function without that green lady's tasty addicting brew, you can get a free refill on most basic coffees and teas.
If worst comes to worst, just make your own coffee in your room to save on time, money and gas.
5. Walk
As small as Piedmont's campus is, there is absolutely no reason anyone should be driving to class unless he or she has a broken leg, a bunch of items to carry for a project or is traveling to the Athens campus. Walking saves gas and is an easy way to exercise.
6. Pay Debt Now
Many students do not know how to access their student loans. However, they can do so by visiting the studentloans.gov website.
Paying something while still in school reduces the amount you pay in interest on your loans in the future.
7. Dine In
If you have a hard time eating in the cafeteria, all of those Taco Bell runs will add up sooner or later. Try saving money better by buying food in bulk at Wal-Mart or Ingles.
8. Hit Up the Thrift Store
Believe it or not, thrifting has become one of the biggest trends across America today.
If you're not big on buying or wearing hand-me-downs, then sell the clothes you don't wear to score some cash.
9. Be a Coupon Queen or King
Take advantage of coupons. You're in college and you don't have money to be making $50 grocery trips every week. Unless you do, then skip to the next tip.
If you have a post office box, you get free coupons almost every month from stores that have discounts on water, chips, hygiene products and more.
10. Pay Attention to Campus Events
Last but not least, get and stay involved on campus. Piedmont is small and has numerous ways for its students to get involved in clubs and organizations.
Some clubs even throw events that will have free food and give away free items such as t-shirts or gift bags that include much needed toiletries.
Plus, you never know what clubs have open leadership positions that offer scholarship money as well.