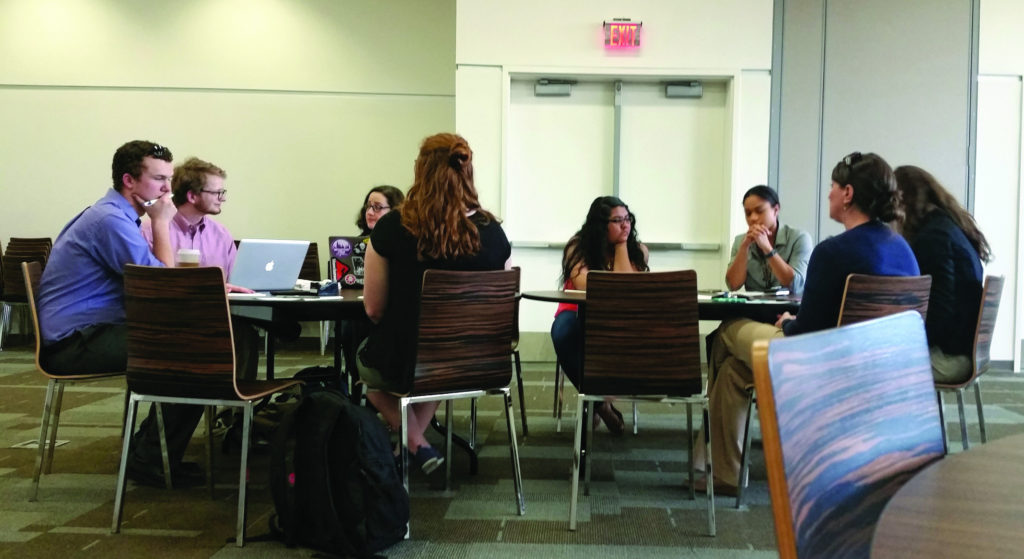 CALEB WILKIE
Staff Writer
On Wed., March 16, the Student Government Association, or SGA, met to discuss various business around Piedmont's campus.
The first item discussed was the upcoming elections for open SGA positions. Pearl Oppenheimer, Vice President of SGA, was made chair of the election committee. She said that she would like to revamp the elections here at Piedmont and make them look more like elections at bigger schools, like the University of Georgia.
The next item of business was a proposal to build a wall around the workout area near the rock wall.
Author of the proposal sophomore Julianne Austin said, "After a recent survey, people said that they would be more likely to attend workout classes if there was a privacy wall. Foot traffic is heavy by the door at the rock wall, and some feel embarrassed because everyone can see them."
The proposal was tabled until more information could be obtained.
Several proposals were also updated at the meeting:
Proposal for another set of stairs along Mayflower Street
Proposal for stairs from Wallace Hall to the Commons
Proposal for fixing the gazebo between Swanson and Johnson
Proposal for the continuation of the ongoing beautification project
Proposal for ceiling fans along treadmill area in the Commons
Oppenheimer gave the Gay-Straight Alliance a voice at this last meeting.
Representatives for the unofficial organization came to possibly make the club an official organization on campus.
Music major Joanna Hansen, one of the representatives of the group, said, "The whole purpose of the group is to have a place to just be yourself. We've tried several times to go through administration, but they have turned us down."
This discussion was also tabled until more information could be gathered.
The next official meeting will be held April 6, 2016.