Mellichamp receives friendship award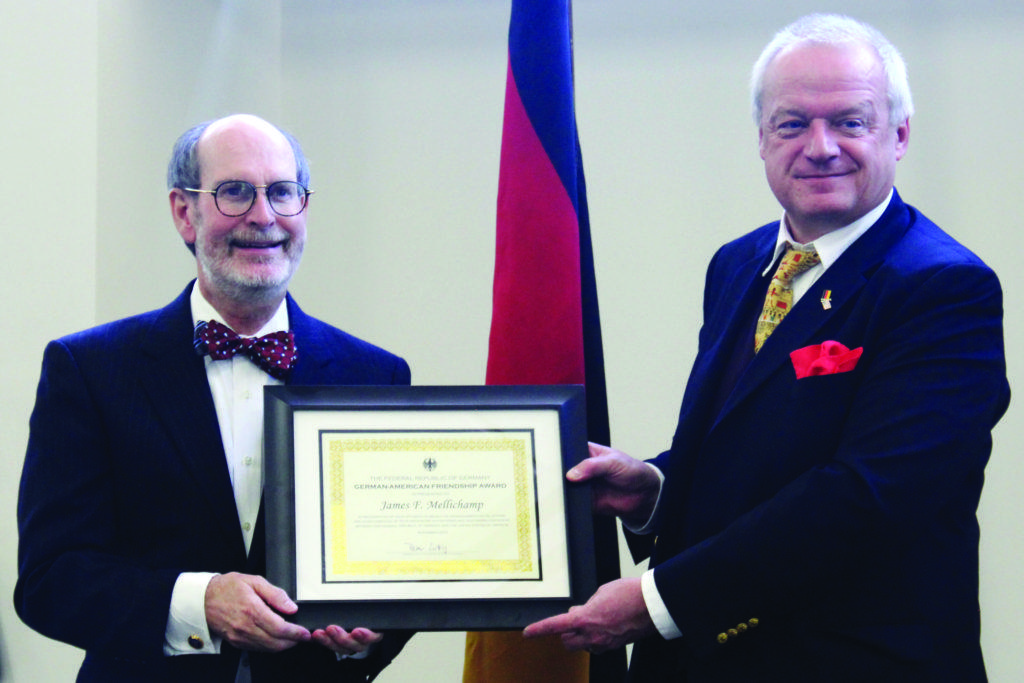 JANIE HARRIS
Editor-in-Chief, News Editor
Community members, business owners, representatives from the Uni- versity of Paderborn in Germany and Piedmont College students, faculty and staff gathered in Piedmont's new Student Commons Conference Rooms to celebrate President James Mellichamp as he received the German-American Friendship Award from the Consulate General of the Federal Republic of Germany in Atlanta.
"I'm very excited and over- whelmed," said Mellichamp.
According to the program, the Friendship Award is given each year by the German Ambassador to the United States to recognize outstanding Americans, who, in their respective fields, impact the fostering German-American relations.
"A better understanding of each other helps us build the bridge between America and Germany," said Deputy Consul General Thomas Wulfing, who, on behalf of the German Ambassador Peter Wittig, presented the award to Mellichamp.
Mellichamp took his first trip to Germany in December 1972 with a college tour group. He went on to complete a minor in German and studied abroad in Westphalia. After working in Germany from 1975 to 1977, he came back to the U.S. to obtain his Doctor of Music degree. Eventually, he went on to become Piedmont's German professor before current German professor Monika Schulte took his place. Today, he promotes travel to Germany to Piedmont students and is a supporter of the German-American Chamber of Commerce Business Day, Atlantik Bruecka Conference for young leaders and Piedmont's partnership with the University of Paderborn.
"I have met a lot of people since I came to Atlanta, and I could not think of a more deserving person," Wulfing said.
The event began with visitors gathering in the conference room of the Student Commons and conversing before being seated. Chairman of the Board of Trustees Gus Arrendale provided the opening remarks.
Arrendale spoke to guests about the history of Piedmont College as well as providing an update on the plans Piedmont set in motion to improve the college.
Guests of the event then were able to dine together for a lunch catered by Chartwells. As guests finished, Wulfing stepped to the podium and spoke about Mellichamp and why the German Ambassador choose him to receive the award.
After receiving the German-American Friendship Award, Mellichamp thanked guests for attending and recognized a German exchange student and a student that is preparing to work in Germany as an intern this summer.
"[Receiving the award] was a huge surprise," said Mellichamp.