SGA PRESIDENT RESIGNS
JANIE HARRIS
Editor-in-Chief, News Editor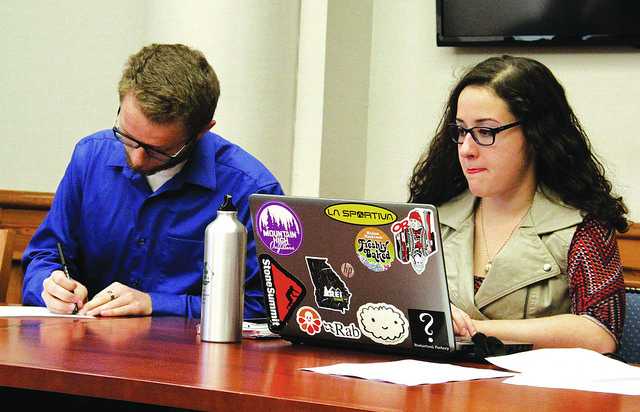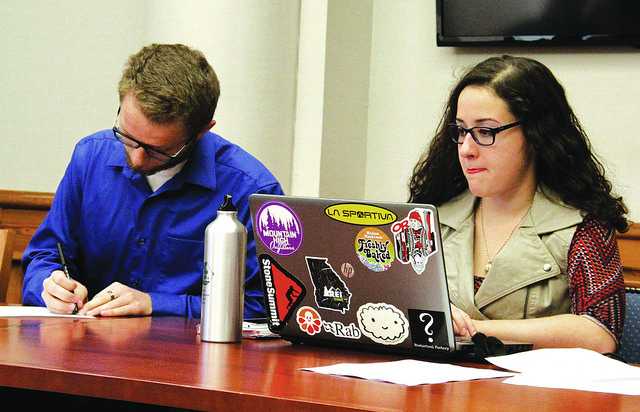 This week, Student Government Association, or SGA, President Joshua McGowan resigned from his position.
"I got an internship and just didn't have the time to work the executive hours that were required," said McGowan.
McGowan's resignation was announced at the most recent SGA meeting on Wed., Oct. 21. At this meeting, the members looked to the SGA constitu- tion to determine the appropriate action for filling the open role, finding that the vice president must step up to the presidential opening.
During the meeting, SGA Vice President Charles Bedell accepted the position.
"It looks like [Bedell] wants to do that temporar- ily," said SGA advisor and Director of Student Life, Kim Crawford.
Crawford explained that she and the two members of the executive board of SGA, Bedell and Secretary
JANIE HARRIS/ Staff
New SGA President Charles Bedell and Secretary Pearl Oppenheimer review their notes before an SGA meeting.
Pearl Oppenheimer, would meet to discuss a pos- sible amendment to the constitution to fill an open position.
"I am going to do my best to push through it and get a third person on the executive board," said Bedell.
If the board pushes to amend the constitution,
they must first have the approval of the other sena- tors of SGA. Once the senators approve the amend- ment, the board can move forward with the plan on how to fill the empty executive role.
"I think that I have left [SGA] in very capable hands, and I am just excited to see what they do from here," McGowan said.