Piedmont Student's Fight Against Breast Cancer
LAUREN BARTLETT
Features Editor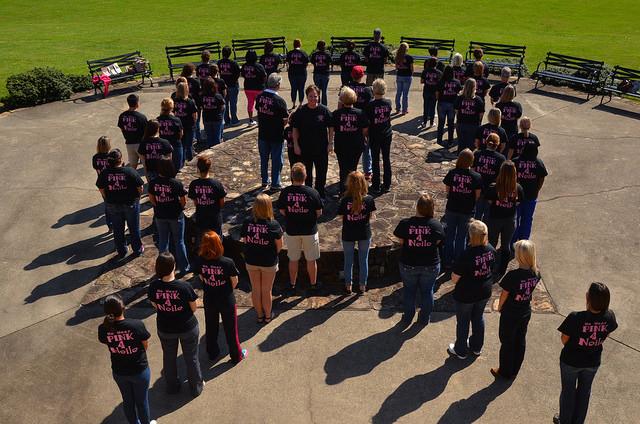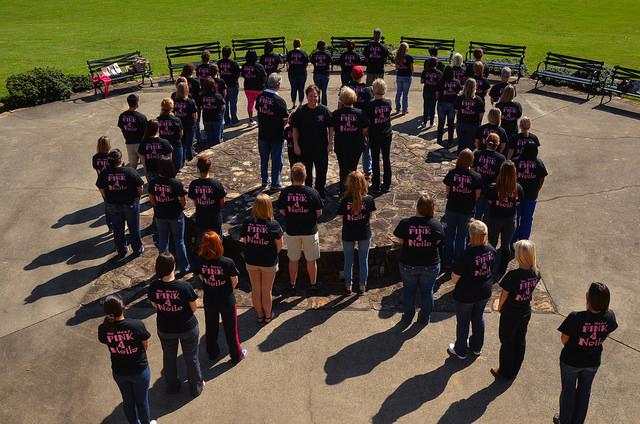 When the month of October arrives, most people plan to take part in breast cancer awareness by sporting pink ribbons, sharing inspiring articles on social media or even running a marathon to help fundraise. But, what most people don't plan for is learning they are diagnosed with breast cancer.
On Oct. 6, five days before her fortieth birthday, Neile Chambers, a junior nursing student at Piedmont College, received the call that she was diagnosed with stage two Lobular Carcinoma, a form of cancer in her left breast.
Chambers heard the devastating news through a phone call from her surgeon a week after Chambers went to the doctor. At the time of her appointment, she was told they were fairly certain they were looking at cancer and to expect a diagnosis.
"There is no moment, no training, for handling hearing, 'it is cancer,'" said Chambers.
Chambers grew up in Cornelia, Ga. and graduated from Habersham County High School in 1994. Her days at Piedmont College started when she finished up her core science classes at North Georgia Tech and the University of North Georgia and entered the junior class at Piedmont in May of 2015.
Chambers' classmates have been very supportive throughout her journey so far.
Chambers said, "There are not enough words to describe the unbelievable support I have received form my family at the RH Daniel School of Nursing."
According to Chambers, the support has only gotten stronger and stronger. Some of her classmates have organized having t-shirts made for her, and they surprised her with a fun, on-campus gathering that included her family and nursing classmates.
Junior nursing major Haley Rae Vasser is close friends with Chambers.
"She instantly became a class favorite, always making us laugh, often at inappropriate times regarding inappropriate content," Vasser said. "But we all, including the professors, loved every second of it."
Vasser said Chambers became like a second mother figure for Vasser.
"Regardless of the pain she is feeling, she always attempts to make everyone else's day brighter," said Vasser. "She doesn't want others to pity her, she wants to be an example: an example that no matter who you are or what you are going through, you can overcome your enemy, which, in her case, is breast cancer."
As soon as students within the nursing department found out about Chambers's condition, they immediately wanted to help.
According to Vasser, junior nursing majors Rachel Hammond, Mary Kathryn Heisel and Kristina Haben had the idea to sell t-shirts in order to raise money for Chambers and her family.
The t-shirts are $10 for Piedmont students and staff and $20 to people in the community. They have even had t-shirt sales come in from Florida.
Chambers said that her classmates have been outstanding supporters so far, and her professors within the nursing department have also been encouraging. Some have even suggested to her on how to deal with side effects and what to expect.
Chambers said, "[Dean of the School of Nursing Linda ] Dr. Scott has just been absolutely outstanding in guiding me through the hoops involved with navigating withdrawal, as well as just being a cheerleader for my health.  On top of that, she's pretty great with hugs."
Chambers and her husband, Andy Chambers, are parents of four little girls: Avery, Duren, Elloree and Hollen.
Chambers said, "They are a handful of dynamite and have done a remarkable job of not freaking out about my cancer diagnosis."
When Chambers had to tell her children about her diagnosis, it was very difficult.
"There is no worse moment, as a mom, than the one when you tell your kids that you have a serious illness.  Especially when you can't say, with certainty, the outcome.  I would never wish that on anyone," Chambers said.
Chambers lives very close to her parents and sister, and they have been very helpful with her girls, taking care of her and trying to stay positive.
Chambers is in the middle of her first cycle of chemotherapy treatment.  She will have 20 weeks of chemo, followed with bilateral mastectomies, in other words, removal of both breasts. Chambers will then have radiation therapy.
"I have found a really great team at The Longstreet Cancer Center in Gainesville; my doctor is plugged into the MD Anderson Cancer Center research program, so I feel like he is really on the cutting edge of Oncology studies, which is very important to me as a young cancer patient," said Chambers.
The type of cancer Chambers has typically does not show up on a mammogram, and it doesn't present as a "lump." Chambers discovered her cancer after examining the skin just under her nipple had a wrinkle that looked different in that area than it ever had before. A couple of weeks later, the appearance of her breast tissue was rapidly changing.
Chambers said, "I made a follow-up appointment with my doctor, who confirmed that an MRI was the best next step, and the pictures couldn't lie: not one, but three breast masses, all cancerous. I share that because early mammograms are not the whole answer.  They are a great screening tool, but there is nothing more powerful than knowing yourself and trusting your instincts. Be familiar with colors, textures, and changes. These are your most important weapons in healthcare, because nobody knows you like you do."
Chambers is expecting to lose her hair within in the next three weeks but says she can't stop imagining what she will look like without eyebrows.
Chambers jokingly said, "Should I buy eyebrow wigs? Do they sell those at Wal-Mart?"
Since Chambers has to stop attending school for now in order to be treated, she will have to put her passion of nursing on pause. In the mean time, she said she will definitely miss her friends, classmates and professors.
Chambers said, "Leaving school to receive treatment has been the biggest dagger to my heart."
Nursing school is very important to Chambers. She cherishes the knowledge, memories and friends she has made so far.
Chambers said, "Nursing school just isn't like regular college; it's more like boot camp, plus a lot of really heavy textbooks, and no regular provided meals.  It's not for wimps, and I'm really proud of all of us- moms, granddaddies, missionaries, entrepreneurs and worker bees who have made it this far. I look forward to restarting with the incoming juniors next fall."
Nursing students are still raising money for Chambers and her family ,and shirts are still for sale. If students have interest in buying a t-shirt in order to help support Chambers and her family, contact Hammon at [email protected] or at 706-809-2218.