Best DIY Halloween Costumes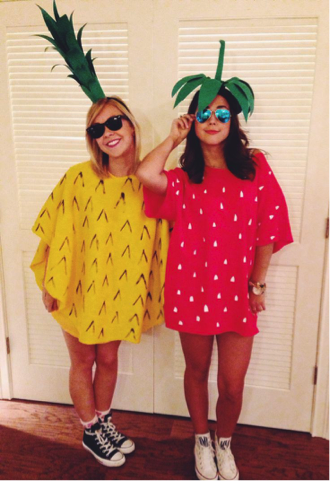 ALENA HANSON
Staff Writer
October is more than just a month of pumpkin-spice lattes and crazy weather. It also includes Halloween. That means trick-or-treating, Jack o' Lanterns and, of course, costumes.
Some might say that dressing up for Halloween is only for children, but college students have just as much fun buying and making costumes. However, money can be an issue for a college student, so buying a costume isn't always ideal.
Below is a list of do-it-yourself projects that can make the process of creating a costume fun and cheap.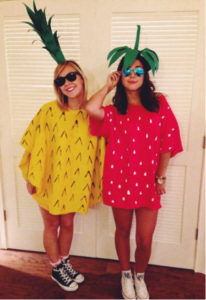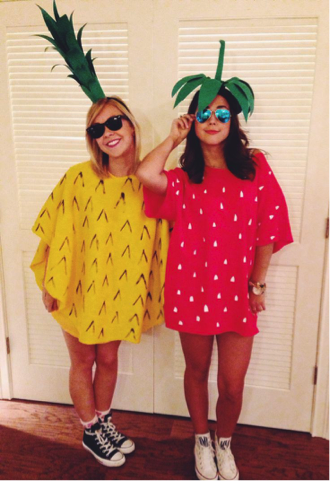 Pineapple and/or Strawberry
Supplies Needed:
1. A pink or yellow oversized t-shirt (about two sizes larger than your normal size)
2. Green construction paper
3. Brown/white acrylic paint, a paintbrush, fabric marker or a sharpie
4. Scissors
5. Leggings or tights (Optional)
6. Tape or glue
Steps: 
1. Pineapple costume: Use the fabric marker or sharpie to make small triangles all over the yellow t-shirt.
Strawberry costume: Use the fabric marker or sharpie to draw dots all over the t-shirt.
2. Cut out long triangles from the green construction paper for the headpieces. For the strawberry costume only, roll a stem out of some of the construction paper and tape/glue the leaves onto it.
3. Pair the completed t-shirts with shorts, tights or leggings and put on the headpiece.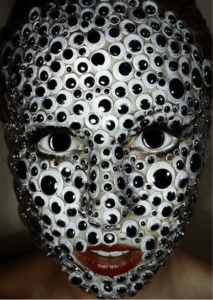 Eyeball Face 
Supplies Needed:
1. White face paint
2. White eyeliner (optional)
3. A large bag of different sized googly eyes
4. Eyelash glue (effective and long-lasting) or regular glue
5. Any outfit needed to complete an artistic or creepy look
Steps: 
1. Paint face with the white paint.
2. Line waterline with the white eyeliner (optional).
3. Apply googly eyes all over the face and the neck, if so desired, with the eyelash glue (or regular glue).
4. Complete the rest of the costume with an outfit of choice.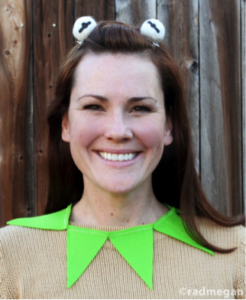 Kermit the Frog
Supplies Needed: 
1. Green fabric
2. Scissors
3. Two ping pong balls
4. A sharpie
5. Green yarn or string
6. Tacky glue or hot glue gun
7. A green shirt that matches pretty well with green fabric
8. Green pants or leggings
9. A headband that matches the wearer's hair color or hair barrettes
Steps: 
1. Draw a circle in the middle of both ping-pong balls. Then, draw a line through the center with equal distance past each side.
2. Glue those balls onto the hair accessory.
3. Cut the green fabric into six long triangles.
4. Measure the yarn/string so that it's the length of the person's neck.
5. Glue the triangles to the string/yarn
6. Finish the look with a green shirt, green pants and shoes.