ʻDjango Unchained'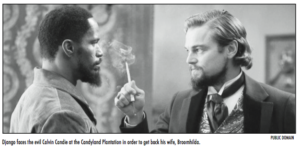 By JACOB MCKEE
Staff Writer
It's rare these days to find a truly good Western movie.
The last big hit Western, the 2010 remake of "True Grit," got mixed reviews from critics and audiences alike.
"Django Unchained," the newest movie from filmmaker Quentin Tarantino, revitaliz- es the Western genre during the height of the human slave
trade in the United States. Django, a freed slave played by Jamie Foxx, is hired by bounty hunter Dr. King Schultz, played by Christoph Waltz. In exchange, Schultz agrees to help rescue Djan- go's enslaved wife, played by Kerry Washington, from the mega-plantation, Candyland.
Though the first half of the movie is truly amazing in and of itself, and the ban- ter between Django and Dr.
Schultz always keeps you chuckling, it is the chapter of the movie that takes place at Candyland that truly put this movie at the top.
Leonardo DiCaprio, inperhaps his best performance ever, completely transforms into Southern gentleman Cal- vin Candie, the proprietor of the plantation.
Candie is as painstakingly evil as he is polite, a quality that really comes out to play in a few moments.
Perhaps the most intrigu- ing thing about him is, at first glance, he doesn't seem like that bad of a guy.Oh, yes, he's evil to the core, and that becomes evi- dent very quickly as the story progresses, but he is the most intelligent of the film's vari- ous plantation owners, and at times utilizes tiny acts of kindness toward his slaves that, for passing moments, actually make him seem like- able.
Off-setting the hospitality that Candie spreads on ev-eryone, including the former slave Django, is Candie's head house slave, Stephen, played by Samuel L. Jackson.
Jackson returns to form here in a role that echoes more of "Pulp Fiction" than of "Star Wars."
Stephen is perhaps the fun- niest part of the movie, shout- ing expletives back and forth with Foxx's Django and talk- ing back brashly when Candie
informs him that Django is going to be staying in the big house.
The movie has its flaws, however, mainly residing in the fact that it goes on for just a little too long. Tarantino packs the movie with cameos, including ones by Jonah Hill, Amber Tamblyn and even himself, but with all of these added nuggets, the movie's run time hits a solid two hours and forty-five minutes.
By the time the last ten minutes have arrived, how- ever, you know how the movie has to end and, as enthralling as the bloody gunfight scenes are, you're kind of ready for it to hit the ending.
Thankfully, the final scene of the movie makes the wait worth it.
"Django Unchained" is nominated for five Academy Awards, including Best Pic- ture, Best Supporting Actor for Christoph Waltz, and Best Original Screenplay.
The movie ranks up in my top five movies of 2012.