Ke Unlocks the Power of Art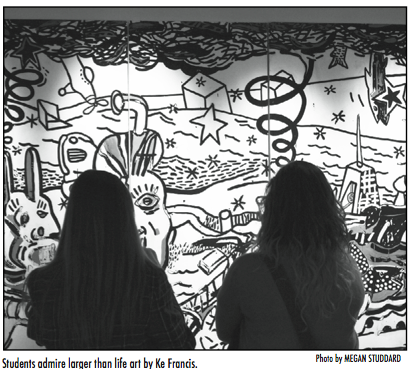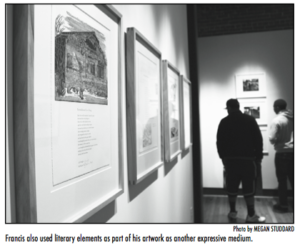 By DEKOTAH LEGO
Staff Writer
Printmaker, book maker, and painter Ke Francis's art exhibit, titled "Narrative Works," will be displayed at the Mason-Scharfenstein Mu- seum of Art from now until Feb.21.
The show displays the many different mediums that Francis uses, with themes and subjects that are familiar to him.
Francis was born in Tupe- lo, Miss., and held his first art show at age 18.
He graduated college with his B.F.A and has been show- ing his work for over fifty years.
Francis worked in his stu- dio for a while after graduat- ing college, but eventually returned back to the college atmosphere as a professor in fine arts at the University of Central Florida.
According to Francis, he will be back in the studio that he began his artistic career in after 26 years at the University.
Francis visited Piedmont College this past week and in- teracted with many students.
On the morning of Jan. 24, he gave a lecture and quickdemonstration to a few art classes.
He began with a back- ground story of where he came from and how he got to where he is now.
Francis told quite a few sto- ries, cracked a few jokes and showed his tips and tricks to creating interesting prints in the printmaking process.
At 6 p.m. that same day, there was an opening recep- tion for his show in the Ma-son-ScharfensteinMuseum. "People always say, 'Ex- plain your work,'" said Fran-
cis. "I eventually just started
telling them, 'Let me tell you a story.'"
His art reflects the many stories one may find in the southeastern United States, where Francis has spent the majority of his life.
The artwork consists of stories of large storms andhurricanes, a story about a catfish that drowned and an artbookconcerningatalltale about a shark.
When talking about his works, Franics jokingly said "I'm not interested in any medium. I hate them all. I am interested in communicat- ing."
He communicated so much throughout his visit hereatPiedmontthathesuc- cessfullyimpactedmanypeo- ple with his stories.
Junior early childhood ed-
ucation major Amber Smith said, "[The show was] very uplifting,eventhoughalotof the pieces were portraying di- saster."
"I feel like, as a viewer, I had the opportunity to create my own story to correlate with each piece," said Smith.
The show is currently on display for people of all ages, free of charge. The Mason- ScharfensteinMuseumofArt isopen9a.m.to5p.m.,Mon- day through Saturday.